Seattle's condo market experienced more of the same in December…increased unit sales volume and lower selling prices. The median sold condo price in December 2011 slid 2.75% from November to $234,000, which also reflected a year-over-year dip of 6.77%, the slimmest in 7 months.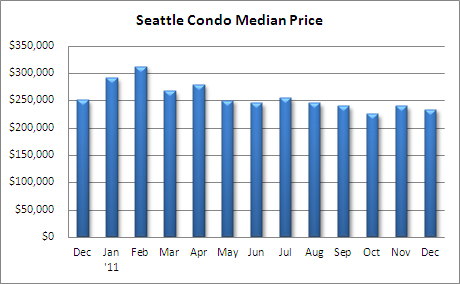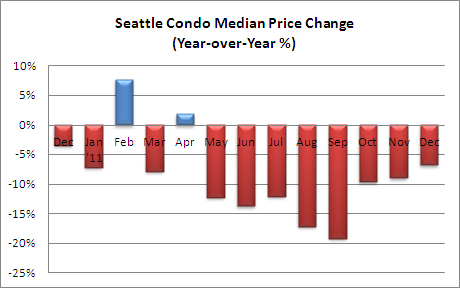 The number of pending transactions (properties going under contract) seasonally declined 11.4% from the prior month to 163 units; however, pendings sales reflected a 32.5% increase over last December. The number of closed condominium purchases improved 15.8% to 139 units compared to December of last year, which continued to reflect the robust sales activity we've experienced during the second half of 2011. Favorable condo prices and mortgage interest rates kept the market rolling along.
King County results didn't fare as well as Seattle. The county's median condo sales price was $185,000 in December reflecting a year-over-year median price drop of -17.78%. Seattle accounts for approximately 35% of the county's condo sales volume.
Since peaking in June, the number of active listings for sale reduced significantly last month. Available Seattle condo units for sale were down 30.4% to 689 properties compared to last December. However, listings always drop at year-end and we'll see it creep up shortly.
The low number of units available, combined with strong sales volume, helped Seattle's condo inventory supply rate reduce to the lowest level in over 4 years. Based on pending sales volume, the supply rate dropped to 4.2 months while the closed sales volume method reduced to a 4.9 month supply.
Essentially, at the current rate of sales, it would take 4.2 months to sell the existing inventory (assuming there are no new listings). This is a common measurement to determine the present housing market evironment. A 4.2 month supply rate suggests Seattle's condo market is exhibiting a neutral-to-slight seller's market. King County also has a 4.2 month condo supply rate. As a comparison, single-family homes in Seattle have a tighter 2.7 month supply rate.
Low inventory with strong demand would indicate movement towards a seller's market and rising prices. Unfortunately, for condo sellers, the latter part of the equation isn't holding true…increased prices. The high number of distressed properties currently available along with the anticipation of more foreclosures in 2012-2013 is keeping pressure on condo prices. Fortunately, for Seattle condo buyers 2012 will continue to provide opportunities for homeownership.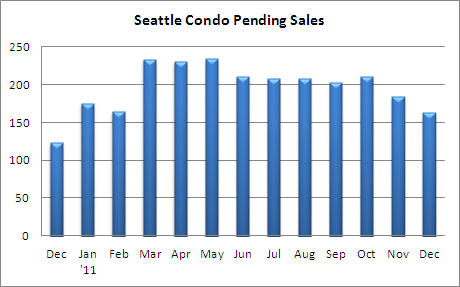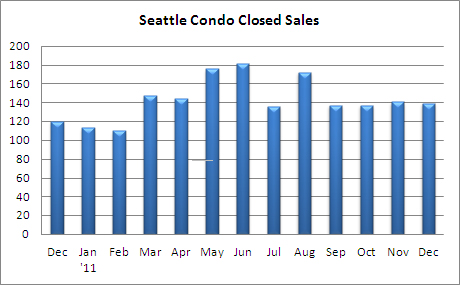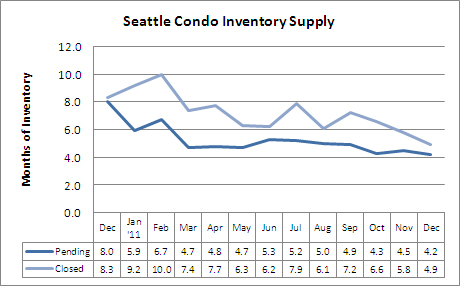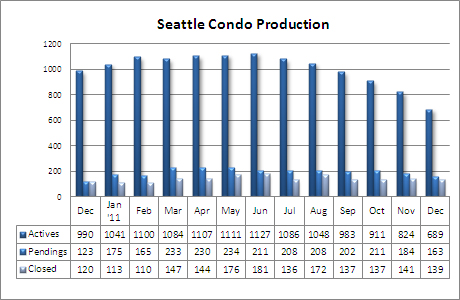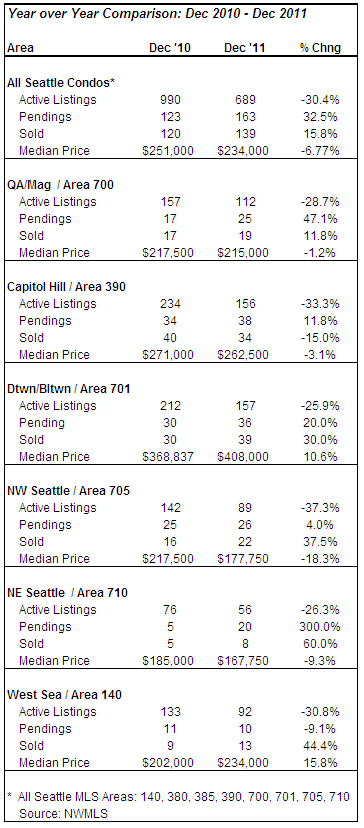 Source: NWMLS. Some figures were not compiled or published by the Northwest Multiple Listing Service.
________________________________
© 2012 Seattle Condos And Lofts