Despite the year-over-year median sales price declining for another month, November was actually a good month for Seattle's condo market – robust sales, shrinking inventory and appealing condo values.
Compared to last November, the median sales price dipped 8.92%. On the surface, that's not good (unless you're a buyer), however, it was the smallest YOY decline in six months and the $240,000 median sales price reflected a one-month increase of 6.9%.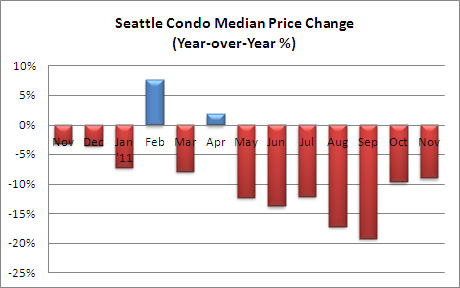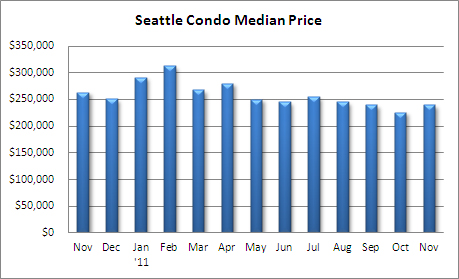 The number of properties going under contract dipped from the prior month, which is normal given the seasonal slow down in November and December. Compared to last November, though, the number of pending transactions increased 21.9%. Presently, distressed properties account for nearly 57% of the pendings (41.6% short sales and 15.2% bank-owned).
The one figure that stood out was the number of closed sales, which increased an amazing 43.9% over November of last year. That's a significant improvement and shows buyers confidence in Seattle's condo market…or at least they're seeing value in the current price levels. Of the closings last month, 12% were short sales, 24% were bank-owned and 64% were equity sales.
King County condo sales were even more impressive with a 69.9% increase of closed condo sales over November 2010.
Seattle's condo inventory continued to constrict with just 824 condo units listed in the NWMLS for sale in November, a 68-month low. That reflected a one-year decline of 31.2% and a one-month reduction of 9.5%. Granted, we expect inventory to drop during the holiday season. However, the current inventory level is reminiscent of late 2006, just as the construction boom took off. While that may still seem high to some, to provide perspective, at the height of the glut there were around 1,900 units available.
The improved sales volume, combined with shrinking inventory, kept the citywide inventory supply rate (absorption rate) in a neutral, or balanced, market environment. That is, neither a seller's market nor a buyer's market. The supply rate varies by neighborhood and price point. Presently, inventory for in-city condos under $200,000 is fairly tight, while higher-price points and outlying neighborhoods tend to have excess inventory.
If inventory continues to drop, which it likely will through 2012 and 2013 even with the shadow inventory, we may return to pre-2006 levels by 2013…back to a seller's market based on the current rate of sales and lack of any new projects in the pipeline.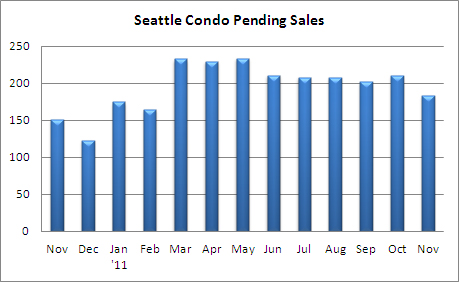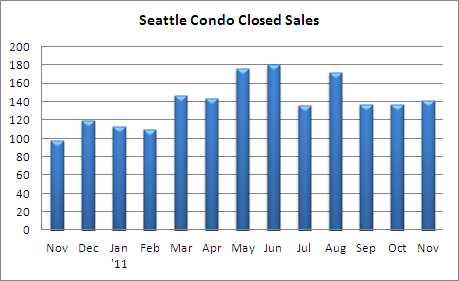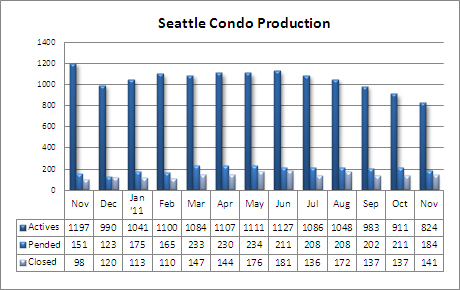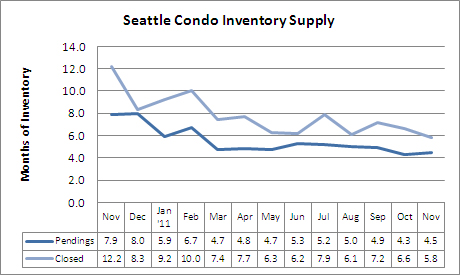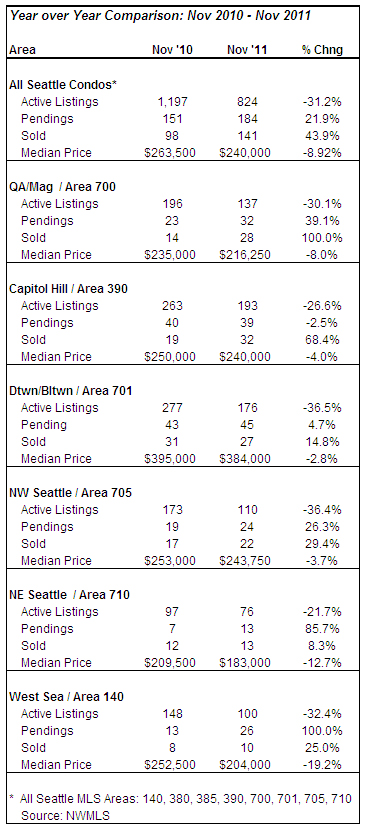 Source: NWMLS. Some figures were not compiled or published by the Northwest Multiple Listing Service.
___________________________________
© Seattle Condos And Lofts