Phase 2 of the Hjarta development by Pryde+Johnson has been conditionally approved by the city's Department of Planning and Development. Hjarta II is a sister development of the adjacent Hjarta Condominium in Seattle's Ballard neighborhood.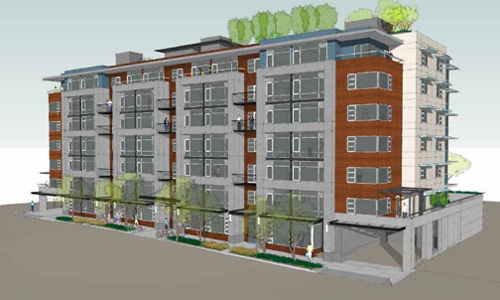 According to the land use application Hjarta II will be a 7-story building containing 102-residential and 4-live/work loft units with parking for 86 to 106 vehicles. While Hjarta II was originally conceived as a second phase to Hjarta Condominium, the current application is for apartments. Given the slow sales pace at Pryde+Johnson's last two condominium projects (Hjarta and the Florera at Green Lake, which is predominately rentals) it's not surprising the present plan is for apartments.
On the other hand, Ballard, like Capitol Hill and downtown, has several apartment buildings in the pipeline including massive developments at old Sunset Bowl, Denny's and the old library sites, among others. If Hjarta II is built, by the time it's completed, Ballard may very well have a glut of rentals and could be primed for additional condo units. Who knows.
Read the DPD conditional approval decision notice
View the Hjarta II proposal (pdf)
Images courtesy of Weber Thompson