Hjarta Condo | 1530 NW Market Street, Seattle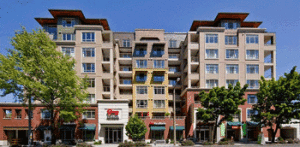 Hjarta phase 1 was completed in 2008, the first of two buildings planned. The phase 1 buidling is 8-stories, the tallest residential building in Ballard, with 79 units offering several distinct floor plans. Hjarta is a green constructed concrete and steel building.
Phase 2 is presently going through the land use process for review and approval. The proposed phase 2 building will be 7-stories consisting of an additional 102 units and will be located in back of the current building.
Number of floors: 8 (phase 1)
Number of units: 79 (phase 1)
Amenities: Owners lounge, fitness center, yoga & pilates room, roof top deck and P-Patch garden
Completed: 2008
Pet Friendly: Yes