A small apartment building has been proposed for the empty lot next to the Grandview Condominium in Belltown. The 7-story building will contain 49 units with a retail space on the ground level.
The design proposal states the residential levels of the building will use a prefabricated modular construction system with the modules manufactured offsite.
An early design review guidance meeting is scheduled for Tuesday, December 13th at 5:30 pm at Seattle City Hall.
Unlike other buildings developed adjacent to existing condominiums in the Belltown area, this shouldn't affect the vast majority of the Grandview owners. The proposed building just tops the garage podium base of of the Grandview. From the renderings, it'll affect the lower 4-levels or so of the Grandview's north-facing units.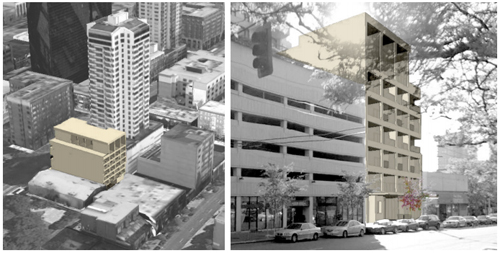 Rendering courtesy of Bushnaq Studio.