I frequently get asked how much less than the list price can buyers offer and realistically purchase a condo for.
In looking at the sales price to list price ratios, on average, Seattle condos sell for 90% of the original list price (10% less) and 95% of the last list price (5% less).
Now, this doesn't necessarily mean that the condo you purchase will sell for 10% below the list price. The amount buyers can negotiate off of the price will depend on a number of factors such as the market environment, the motivation of the seller, inventory level, competition from other buyers and time on market. Nevertheless, the ratios show there is ample pricing flexibility in the market today.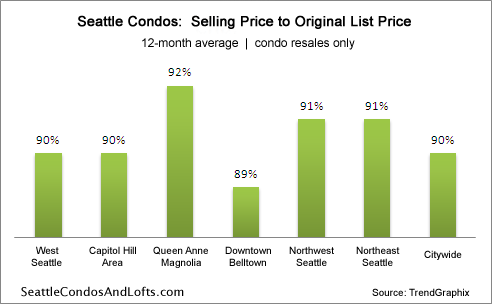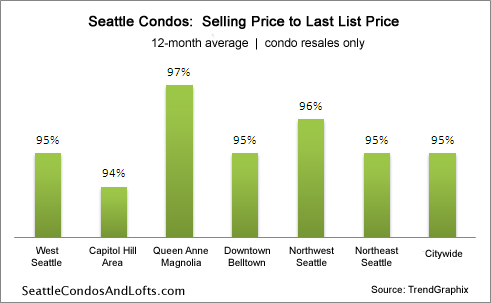 If buyers expect to realize a 20-30% reduction off the price, that's not very likely. But, not impossible. There are opportunities to realize great values on bank-owned and short sale properties but they only represent 25% of all Seattle condo sales.
The figures above are 12-month averages of the selling price to list price ratios of Seattle condo resales. It includes regular market and distressed sales, but I excluded new construction since the sales data rarely include the actual original list price of new construction units.