One Main Street – Downtown Bellevue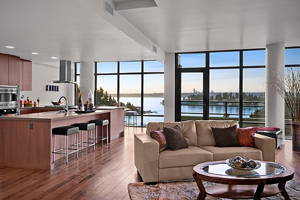 The Bellevue condo market is starting to heat up with One Main Street reporting an additional 3 home sales. The boutique development, conveniently located near the Downtown Bellevue Park, is now 56% sold.
One Main Street offers a variety of home plans to choose from, ranging from a $329,900 open one-bedroom to a $1,609,900 spacious three-bedroom penthouse suite.
Visit the One Main Street website and blog
View One Main Street condos for sale
Bellevue Towers – Downtown Bellevue
Bellevue Towers continue to do exceptionally well, recording another 35 closed sales since May 1st…24 of those in May alone. That might be the highest single month closings for a new condo development we've seen in years.
Apparently, at least in the minds of the owners, sales are going so well that they've actually increased prices. The increases ranged from $3,000 to $25,000. While they may have sold over 100 homes this year alone, they still have approximately 400 more units to go. New home prices currently range from $316,000 to $5,499,000.
Visit the Bellevue Towers website
View Bellevue Towers condos for sale
Harvard & Highland – the Harvard Belmont District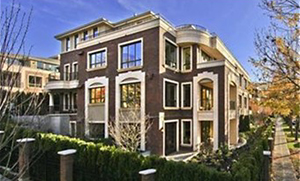 The classical Harvard & Highland Condominium, nestled in Capitol Hill's historict Harvard Belmont neighborhood, also reported three sales in May. These beautifully appointed homes are available from $995,000 to $2,350,000.
View the Harvard & Highland website
View Harvard & Highland homes for sale
Fairview Condos – Mukilteo
Following the Fairview condo auction in November, Matrix took over sales of the remaining twelve unsold units in February. Now, they're down to the final three homes: 2 two-bedrooms priced at $354,500 & $364,500 and a three-bedroom penthouse that's offered at $1,115,500.
Visit the Fairview Condos website
View Fairview condos for sale
The Enclave at Lake Union – Eastlake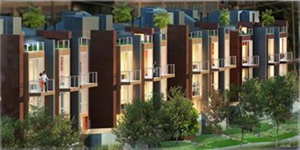 The Enclave at Lake Union is re-awakening since we last heard from the marketing team last autumn. The developer is repositioning the project targeting homeowners seeking larger in-city waterfront homes.
"We've been patiently waiting for the market fundamentals to improve allowing construction to begin. We see an emerging opportunity to target those accustomed to the waterfront lifestyle but preferring to simplify their domestic responsibilities. The Enclave at Lake Union will deliver on all counts," says Mike Yukevich, Investment Manager and partner at Trinity Real Estate, the developer of The Enclave at Lake Union.
The individual two-bedroom townhomes range in size from 2,500 to 3,000 square feet and are being presold from $1.3 million. The larger 5,200+ square foot, three bedroom "combined" residence is being offered from $2.995 million in an improved "vanilla shell" condition, meaning all the building systems (including elevators) and interior demising is constructed but the prospective homebuyer has the flexibility to specify the interior finishes. Alternatively, a fully finished home to the same luxury specification as the other homes is available turnkey at $3.395 million.
Visit the Enclave website
View Enclave homes for sale (presale)
Olive 8 Sky Suites – Downtown Seattle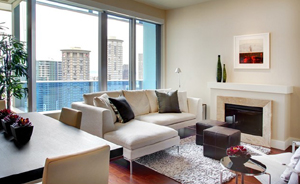 Realizing an emerging market of out-of-towners looking for a second in-city Seattle home with resort amenities, Olive 8 is offering its remaining open one-bedroom condo homes (the 'xx09' and 'xx10' stack) fully furnished.
The turnkey furniture packages from Alchemy Collections is available with full price offers on the newly named open one-bedroom "Sky Suite Collection" homes, which start from $370,000.
Visit the Olive 8 website
View Olive 8 condos for sale
Disclaimer: At time of publication, Olive 8 is an advertiser of Seattle Condos and Lofts.