At first look, the Seattle condo market results for March 2011 don't look all that promising, especially when viewing the charts below. The market, though, performed quite well overall.
The most notable figure was the median Seattle condo sales price, which decreased 7.9% from a year ago to $268,000. That's also a 14.3% drop from February. The median sales price is the mid-point price of the condos that sold and not necessarily indicative of value trends. In March, a higher number of lower priced condo sales weighted the mid-point downward. Nevertheless, values continued to decline.
Falling condo values, though, have been having a positive impact on the market place. We're seeing a greater number of buyers across the spectrum from first-time buyers to investors to the luxury home buyer. Compared to March 2010, unit sales of condos priced under $250,000 were up 19.3% while sales of condos over $1 million increased a staggering 233%.
Last month there were 147 closed sales and 233 properties that went under contract. Compared to the same period last year, those figures were down 17% and 12.7%, respectively. It is important to note, the tax credit inflated sales last year so we fully expected year-over-year figures to be lower. If we just left it there it would seem Seattle condo sales did poorly last month. But, it didn't…in fact, it was rather exceptional considering. Closed unit sales reflected a one-month increase of 33.6% while pending transactions rose 41.2%. In March 2011, we had the most monthly closed sales since June 2010 and the highest number of pending transactions in 11 months. Condo unit sales are rebounding without governmental incentives.
Seattle's condo inventory has been holding relatively steady over the past four months. Normally, we would see a rise in inventory this time of year, but the 1,084 condos for sale in March reflected a decline of 1.4% from February and 24.8% from last March. Though, I expect inventory to rise going forward.
The higher unit sales volume and stable inventory have reduced the inventory supply rate considerably. Based on pending transactions the supply rate was 4.7 months and based on closed sales it was 7.4 months. Both figures indicate a shift towards normal market conditions. The supply rate is prone to fluctuations, however, so I wouldn't say we're back to a normalized market environment just yet.
In short, the median condo sales priced dropped last month, a combination of falling values and more sales of lower-priced condos that migrated the mid-point downwards. Buyers reacted positively to those falling prices, and along with low interest rates, returned to the market place seeing value in condos. Excluding the three artificial bumps (tax credits in 2008/2009/2010), March's unit sales volume was among the better performing months over the past three years.
Without any new deliverable units (new construction) for at least 24-36 months, Seattle's once endless glut of inventory will continue to reduce, which over time will allow values to stabilize and appreciate. However, we're not there yet, and if you're a buyer, that can be a good thing.
First Quarter Results
During the first quarter of 2011, 378 condos in Seattle sold with a total dollar volume of $148,751,000 and a median sales price of $285,000. In the first quarter of 2010, 419 condos sold with a total dollar volume of $152,200,000 and a median sales price of $295,000. Compared to last year, unit sales decreased 9.7% and median price declined 3.4%, however, the average sales price rose 8.3%.
Seattle condo market charts: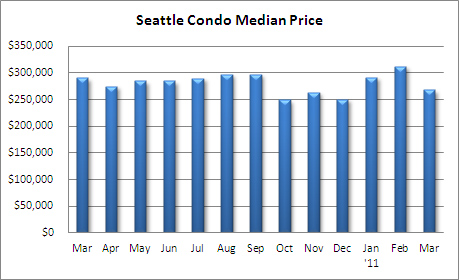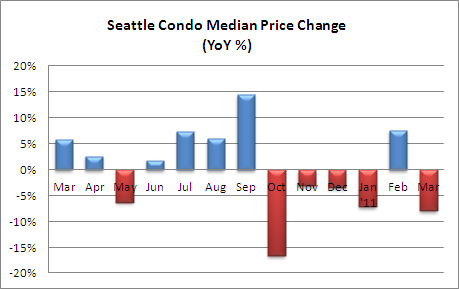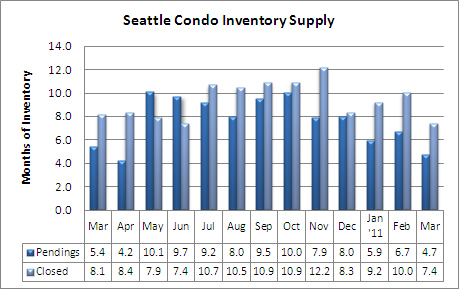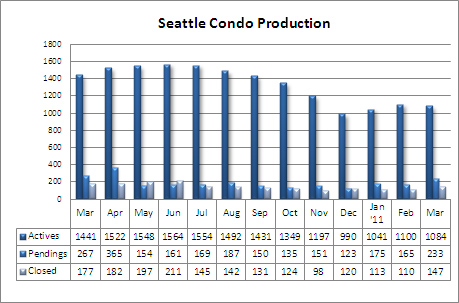 Distressed condo properties, short sales and bank-owned, accounted for 25.5% of the closed unit sales volume in March 2010. Currently, distressed condo properties represent 23% of the available condo inventory.