If you're currently looking to purchase your home (house, condo, townhome) with an FHA Loan, the cost of that loan will be increasing soon. Effective April 18, 2011, the FHA monthly mortgage insurance premium will be increasing 0.25% for all loans with case numbers issued on or after April 18th.
The net effect of the change is two-fold. First, the monthly mortgage payments will increase. That means more money out of pocket every month. Second, as the cost of the mortgage rises, purchasing power decreases. In this case, not by much; it's likely less than $10,000. Though, if you're close to your limit, that could have an effect on how much home you can afford. To avoid the fee increase, buyers should act quickly.

Most FHA buyers will finance a 30-year term with the minimum 3.5% down, resulting in a 96.5% loan to value, and therefore will be subject to the 1.15% mortgage insurance premium.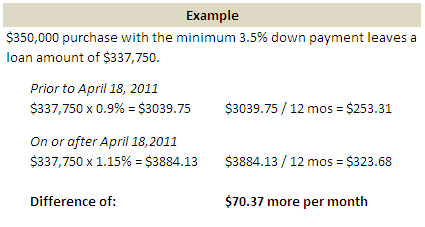 For a $500,000 loan, the monthly mortgage payment amount would increase $104.
This is the second time in about six months that FHA has increased the monthly mortgage insurance premium. Fortunately, the FHA mortgage insurance premium tax deduction has been extended through 2011, which will help ease the burden. As always, we recommend you speak with your mortgage and/or tax professional to get more detailed information on how the change will affect you.
Don't forget about the Mortgage Credit Certificate. For qualified first-time home buyers, the Mortgage Credit Certificate tax credit can completely negate the amount of FHA mortgage insurance premium increase.