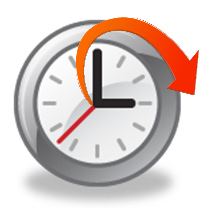 It's time to spring forward and change your clocks. Daylight Savings Time begins this Sunday – March 13th – at 2:00 AM in the morning…so remember to set your clocks ahead by one hour.
1350 Alki
It has taken nearly three years to sell out the 10-unit 1350 Alki condo development, but the end is seemingly in sight. The pending offer on unit #S5 last week now leaves two units available. Unit #3S is a 3-bedroom 1,425 square foot unit listed at $559,950, which is 34% less than its original $849,000 price in 2007. However, that's a tad bit high considering that #4S sold 6-months ago for $560,000. Unit #2N is a slightly smaller 3-bedroom 1,325 square unit listed at $499,950. That's 35% below its original $769,000 offer price. View 1350 Alki condos for sale.
Gallery Condo Buy Now Event
Word is the Gallery Buy Now event was a "disorganized mess" that resulted in the sale of just 8 of the the 25 units offered. Although Schnitzer totally botched the auction/buy now event, and perhaps lost some goodwill in the process, the Gallery Condominium is a great building and does offer value for new construction in the downtown/Belltown area. View Gallery condos for sale.
1521 Second
The 1521 Second Condominium is hosting another open house event this weekend, March 12th & 13th, from noon to 4:00 pm. The open house provides the public an opportunity to tour some of Seattle's most luxurious, and expensive, condos. View 1521 Second condos for sale.
Hjarta Condominium
The Hjarta Condominium in Ballard sold another 4 units since our update last month. View Hjarta condos for sale.
Trace North
The Trace North development on Capitol Hill recently passed the 90% sold level. It has been a long time coming given that pre-sales started back in early 2007. Since our last update 3 weeks ago, 4 additional homes were sold at Trace North, leaving less than 10 homes available for purchase. View Trace North condos for sale.
Escala Condominium
Since the beginning of the year, Escala has closed 11 transactions with another 8 homes pending. Per the NWMLS, to date, Escala has 88 sales with 75 of those closing, so they're just under 1/3 sold with 181 homes available. View Escala condos for sale.
Disclaimer: Advertisers of The Seattle Condo Blog at time of publication include Hjarta, 1521 Second & Trace North.