The Mortgage Credit Certificate (MCC) has been around for a few years but it hasn't received much attention. However, with the constantly changing requirements to qualify for mortgages, it's starting to catch on for many buyers who are looking to stretch their income or qualify for a larger loan amount.
In a nutshell, the MCC is a tax credit that returns 20% of a borrower's mortgage interest payment. Buyers can either claim the tax credit when filing their taxes or adjust their paycheck withholding amount, which will allow them to increase their income every month by a few hundred dollars. By increasing their income, buyers can gain additional purchasing power (up to $20,000*) or tuck the money away if they so choose.
Example*: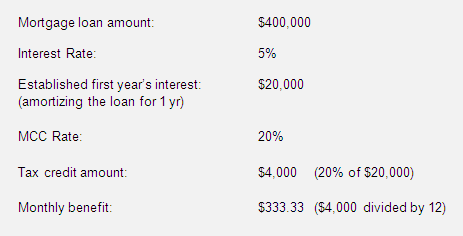 Eligibility Guidelines:
Borrowers must be a first-time home buyer (not owned a home in the previous three years) and complete a Washington State Housing Finance Commission homebuyer education class.
Conventional, FHA, VA and Rural Development mortgages are eligible.
Applicable towards the purchase of a single family home, townhome, condos or a permanently affixed manufactured home.
The home must be a primary residence, so it's not eligible for second homes or investment properties.
Maximum income limits apply. For King & Snohomish counties it's $90,000 for 1-2 persons and $97,000 for 3 + person family.
The maximum purchase price varies by county. For King County, it's $450,000 in non-targeted areas and $475,000 in targeted areas. Most of downtown, Belltown, Denny Triangle, South Lake Union, First Hill and South Seattle fall into the targeted area, thus eligible up to $475,000.
No more than 15% of the residence may be used for business or trade purposes.
If buyer sells the property within nine years, a recapture tax may apply.
There is a non-refundable fee of $650. However, that can easily be recouped in a few months.
The Mortgage Credit Certificate program is available through select lenders in Washington State on a first-come, first-served basis. Most of the notable mortgage companies are participating. The MCC credit is available through all of our recommended lenders: Wells Fargo Home Mortgage, Metlife Home Loans, Guild Mortgage and Sterling Savings Bank.
If you'd like to know more about the Mortgage Credit Certificate, drop us a note and we'll put you in contact with a mortgage specialist.
* Every buyer's circumstance is different and this amount depends on several factors including loan limit, loan program and interest rate. This is provided for informational purposes, please consult with your mortgage professional for greater details about the Mortgage Credit Certificate.