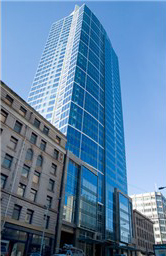 Judging by the reports from a number of condo developments in the area, as well as our own experience, condo sales activity is picking up.
As noted in our earlier post about Bellevue Towers, so far this year they've got 18 sales under contract and another 11 offers under review.
The historic Queens Court conversion is starting to see movement with 4 homes selling last month, leaving only 6 units available between $149,950 and $174,950.
The Hjarta Condo development in Ballard took in another 10 sales in the past two months. Homes at Hjarta start from $259,950.
Downtown Seattle's luxury condo tower, Fifteen Twenty-One, is hosting a Designer Home Series open house this weekend from noon to 4 pm on Saturday 2/12 and Sunday 2/13. The development is now 75% sold.
Back on the Eastside, the One Main Street condo in downtown Bellevue sold another two homes this past weekend. Condo homes at One Main Street range from $319,000 to over $1.6 million and many homes are priced below $400,000.
First Hill's Decatur Condominium reduced prices on a number of units last week.
The Danielle Condo in Ballard is reporting consistent sales so far this year.
The Fairview Condos in Mukilteo has 12 units available. If you remember, 20 of the 22 units sold at auction in November with 15 of those eventually closing. The remaining 7 unsold units plus a few others that were held back are now on the market, priced from $239,500 to $1,115,500.