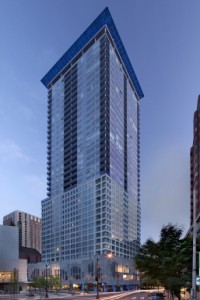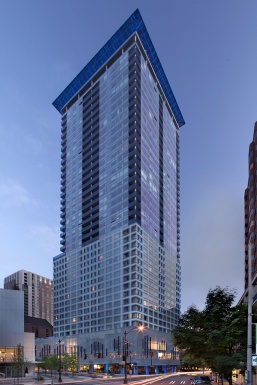 Starting today, Seattle's Olive 8 Condo resets with a new sales team, new pricing and a new marketing strategy. Realogics Sotheby's takes over the reins of Olive 8, the third marketing company to do so, charged with selling the remaining units at the luxury condominium development.
Presently, approximately 50% of the Olive 8's 229 upsale homes have already been sold, a number of which were through a recent condo auction. The remaining homes are available from level 27 and above.
Julie McAvoy will lead the new sales team. McAvoy previously headed sales at the 2200 and has been involved with Washington Square, Tribeca and the Four Seasons Private Residences.
Olive 8 added a video to its website this morning, hosted by syndicated columnist, Tom Kelly, and features members of the development and marketing team. I normally take what condo marketers say with a grain of salt, but the video does make an valid point about inventory. In respects to "new inventory", the downtown Seattle condo inventory level is constricting. The lack of new developments have allowed the current slate of buildings to reduce their inventory, and there won't be another completed condominium building until at least 2014. According to Dean Jones of Realogics Sotheby's, fewer than 450 new condominiums remain unsold in the city center. So, if you're looking for a brand new never lived in condo there's not a lot of choices compared to 2-3 years ago, unless you're looking at the million dollar plus level.
There are caveats to the above. A white knight could emerge to save the Volta project on First and Bell and buildings like Rollin Street Flats in South Lake Union can easily reconvert to condos, but unlikely given the current rental market.
We should be hearing more about Olive 8's new pricing shortly…stay tuned.
View available Olive 8 Condo homes for sale.
Disclaimer: Olive 8 / Realogics Sotheby's is an advertiser of The Seattle Condo Blog at time of publication.