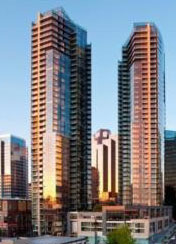 According to the Bellevue Reporter, a new investment group breaths life into the Bellevue Towers Condominium development.
As the original lead senior lender on the project, Morgan Stanley, along with its co-lenders, increased their investment in the project Thursday to consolidate ownership of the development, placing it on new financial footing. The ownership transition provides financial stability to continue to market and operate the property as remaining units are sold.

"This is good news for current and prospective homebuyers at Bellevue Towers, allowing the project to re-set pricing and move forward with the orderly retail sale of the remaining homes," said Ira K. Glasser, adviser to the lending group concerning Bellevue Towers. "This investment in Bellevue Towers is an investment in downtown Bellevue and an investment in the community."
Read more about this story at the Bellevue Reporter.
This could bode well for the twin-tower downtown Bellevue condo project. I had expected that it would follow the apartment conversion or condo auction route. Presently, Bellevue Towers has only closed 22% of its 539 condo units.