Reprint from press release.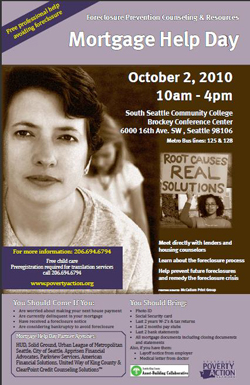 SEATTLE – September 15, 2010 – Families facing foreclosure will have the opportunity to meet with their mortgage lenders and get free one-on-one advice and resources from state- certified housing counselors at Mortgage Help Day on October 2.
Last year, over 30,000 families in Washington State lost their homes to foreclosure. With another wave of adjustable rate mortgages resetting and the economy still staggering, it is estimated that nearly 41,000 Washington homeowners are likely to face foreclosure this year.
To support homeowners and communities as well as build awareness around the need for changes in public policy to better stabilize our communities, Statewide Poverty Action Network (Poverty Action) and partner agencies are hosting Mortgage Help Day on October 2, 2010 from 10:00 A.M. – 4:00 P.M. at South Seattle Community College (map and directions).
The free event will connect homeowners with lenders and HUD-certified housing counselors, as well as help attendees understand the foreclosure process and take steps to help remedy the crisis. To date, lenders who will be attending the event include Chase Bank and Wells Fargo. Attendees should bring a photo ID, social security card, last two years of W-2s and tax returns, last two pay stubs and bank statements as well as all mortgage documents (note that pre-registration is required for translation services). For more information, call (206) 694-6794 or go to www.povertyaction.org.
"Because lenders, borrowers, homeowners and our communities all benefit if foreclosures are avoided, we are committed to helping vulnerable homeowners gain a broad range of options to maintain their housing," said Bev Spears, Executive Director of Poverty Action. "Homeowners who are worried about losing their homes or are facing foreclosure should attend our free Mortgage Help Day to gain a deeper understanding about the process, timeline and options to avoid foreclosure."
In addition to helping Washington homeowners understand and navigate the foreclosure process and possible options, Mortgage Help Day will highlight the overwhelming need for laws to help protect Washington homeowners from foreclosure. Poverty Action is promoting legislation that would create a mandatory mediation process in Washington State to give homeowners every opportunity to avoid foreclosure and maximize the ability for loan modifications. In 23 other states and municipalities around the country, this mediation process has helped 60 percent of participants avoid losing their homes.