This weeks condo wire digest – Canal Station, Veer Lofts close out, Sylvan Ridge, Belltown land use update and happenings in South Lake Union.
Canal Station
Canal Station North Condominium in Ballard is down to its final home for sale…a 530 square foot one-bedroom priced at $179,950. This home includes slab granite counters, designer fixtures and parking.
Veer Lofts
Veer Lofts in South Lake Union is also in its final close out with just 4 homes available (unit #111 has sold), all available between $273,000 and $354,000. It sound like they're offering additional buyer incentives, too. Gotta ask for them, though. Veer Lofts is FHA approved.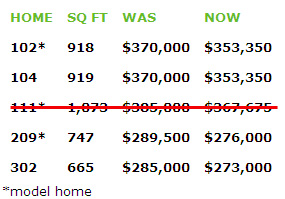 Sylvan Ridge
This large townhome community in West Seattle recently reduced its prices. Home are now available from $274,950 for a 2-bedroom, 2.5 bath unit with over 1,400 square feet of living space. Sylvan Ridge has sold over 90 townhomes so far and are FHA & VA approved.
Belltown Apartment Land Use
If you live/own in Seattle Heights or Mosler Lofts, the Seattle DPD is holding an Design Review Board meeting for the proposed 19-story apartment building at 3rd & Cedar (currently occupied by the American Lung Association).
September 28th at 5:30 PM
Seattle City Hall
Boards and Commission Room L280
South Lake Union news
A couple of noteworthy events are happening in South Lake Union.
For the pooches
A citizens' committee for the creation of a new SLU dog play area is forming right now. Want in? Just come to Enso's community room (820 Blanchard St.) on Thursday, September 23 from 6:30-8:00 p.m. (Via www.DiscoverSLU.com).
Lake Union Park finally opens
The Seattle Parks Foundation is celebrating the grand opening of Seattle's newest park, the Lake Union Park, on Saturday, September 25th. The day long event (7 am to 7 pm) is filled with festivities – live music, model boat races, foods, canoe displays and more!