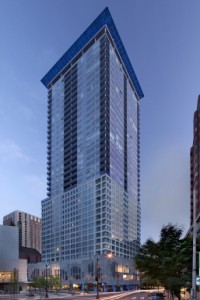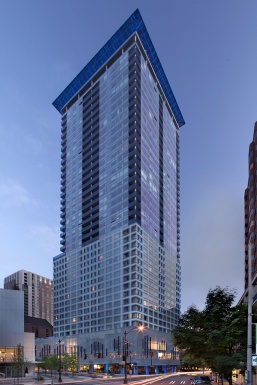 Olive 8 Condominium (737 Olive Way) announced that it will auction 34 homes on Sunday, September 19th at 1 pm at the Hyatt at Olive 8 Hotel (within the Olive 8 building).
The auction will be conducted by Kennedy Wilson, who previously handled auctions for the 5th & Madison Condominium, Queen Anne High School Condominium and the Press Condominium.
The 34 one- and two-bedroom homes being auctioned were previously listed between $395,000 and $1,235,000 and their starting bids will range from $160,000 to $440,000. The units are located on floors 18 through 26, and range in size from 650 square feet to 1,586 square feet.
As with the 5th & Madison auction, there is an unpublished reserve price. Therefore, the highest bidder may not necessarily be the winning bidder. Bids are subject to seller's acceptance.
As with Kennedy Wilson's other auctions, a "How to Buy" informational seminar will be held prior a week prior on Sunday, September 12th at 1 pm at the Hyatt at Olive 8.
Auction website: www.Olive8CondoAuction.com
Or access the auction website directly (behind the website registration wall) and download the auction brochure (pdf).
Auctions are a different beast so if you're thinking of participating, be sure to (1) read the auction terms thoroughly (buyers do not have many of protections afforded to them as with a normal purchase transaction), (2) attend the "how to" session and/or (3) utilize the services of a buyer's agent who can provide guidance, knowledge of auction procedures and buyer representation through the process. Note, if you tour the units on your own, you may not be eligible to your own representation if you decide to bid and purchase a unit.