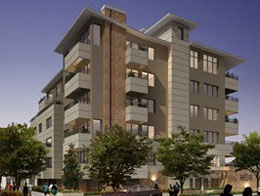 The Danielle Condominium in Ballard reports they are scheduled for completion mid-summer and have pre-sold 15%. The development features 31 one-bedroom, one-bedroom + den and two-bedroom homes starting from $229,950. The Danielle expects to have FHA approval shortly which should spur sales.
The building is located at 5803 24th Ave NW, kitty-corner from the new Ballard QFC and Ballard Commons Park.
Gallery Condominium
The Gallery Condominium in Belltown is offering a limited time buyer bonus offer. For purchase contracts written between June 18, 2010 and August 31, 2010, Gallery is offer a 3% buyer bonus up to $10,000. Prices start at $239,000 and they are now 75% sold!
Gallery is located at 2911 2nd Avenue, blocks to the Olympic Sculpture Park and the Seattle Center.
Kenmore's Copper Lantern Homes report they've just reduced prices. For example, a one-bedroom condo unit reduced from $161,920 to $136,000 while a two-bedroom townhome went from $199,500 to $180,000. Also available are one remaining three-bedroom townhome listed at $224,500 and one four-bedroom for $240,000.
Copper Lantern was developed by the Low Income Housing Institute (LIHI) to provide first-time home buyers who meet income qualifications the opportunity for affordable homeownership. Copper Lantern is located at 7026 NE 182nd Street, Kenmore, WA.