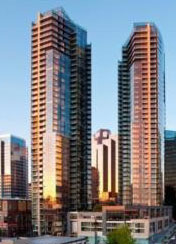 Bellevue's sleek twin Bellevue Towers condominium development has obtained FHA approval. This is rather significant in light of (1) this has always been marketed as an upscale, luxury condomionium and (2) FHA approval opens to door to a much larger pool of buyers for the project.
The current FHA loan limit is $567,000 and requires only a 3.5% down payment.
Additionally, Bellevue Towers reports nearly 20 additional home sales in the past three months. The project was designed to meet LEED Gold certification requirements and features outdoor green spaces and fantastic residential amenities. Commercial businesses that recently opened at Bellevue Towers include Purple Cafe and Barrio Restaurant.
____________________
The Seattle Condo Blog