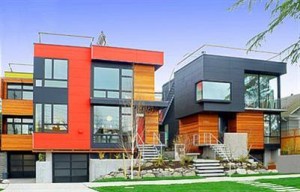 Lakeview Lofts, a microcommunity of six townhomes located in the highly desirable Eastlake community (2350 Minor Ave E), received LEED Platinum certification under the U.S. Green Building Council's LEED for homes certification program.
"We created homes that redefine urban living with a social conscience, and in the process, departed from many of Seattle city codes with regard to townhome development. Our hope is future developments will use our project as anexample for greater diversity and smart growth within the city limits of Seattle," said Carsten Stinn, architect for Lakeview Lofts. "Today's recognition from the U.S. Green Building Council enables us to showcase what we hope is the future of Seattle development, with a large focus on sustainability."
LEED Platinum for this project is projected to save up to 80% in energy consumption over the standard code-built homes. Features include Vacuum solar tubes that heat water used for a hydronic in-floor heating system and domestic hot water, induction cook-tops (96% efficient compared to gas, which is 44% efficient), green rooftops, low VOC paint, cabinets made without formaldehyde, bamboo flooring, pervious pavement, indoor ventilation systems and the potential to add Photo-voltaic panels in association with the city's 'Net Metering Program'.
The project consists of 6 single family homes between 1816 – 2250 square feet in size. All homes are arranged around an open garden courtyard, which is shared by the entire micro community. Two homes are available, priced from $760,000.
Photo tour (courtesy of John L. Scott)
Website: www.eastlakeunionlofts.com