Pre-sale & Updated information (Aug 07)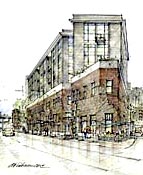 Stadium Lofts (website) is a new community in the shadow of Qwest Field at the edge of Pioneer Square, the International District and SoDo. Built atop the 1905 Seattle Plumbing Building, the project includes 85 66 heavy-timbered lofts & work/loft homes. One of the goals of the project is to preserve the building's historic elements & character.
Homes range from 490 to 1,490 sq ft and feature:
open layout spaces with heavy timbered, exposed wood ceilings
true-lofts with 16′ 10″ ceilings
flats with 10′ ceilings
bamboo floors throughout main living area
natural stone countertop
stainless steel appliances with gas cooktop
tile and stainless kitchen backsplash
full tile bathrooms
3rd floor landscaped courtyard & 4th floor garden terrace
private reserved garage parking available
Stadium Lofts residents will enjoy Seattle's urban lifestyle just steps from the front door – sporting events, art galleries, coffee houses, nightlife, bookshops & antique stores. The building is in a unique location between the 1st Avenue Viaduct onramp and Qwest Field, so future residents who are sensitive to noise should take this into consideration. On a plus note, residents can take advantage of the new community planned for the North Lot which will include additional retail, living and work amenities.
Homes are priced from the high $300,000s to over $1 million. Limited pre-sales are expected to begin in 2007 with their presentation center opening early 2008. Ground breaking is slated for January 2008.
Related articles: Seattle Plumbing Building at Vintage Seattle, Seattle PI 7/4/07, Seattle Times 7/19/07
Last updated: 6/22/07