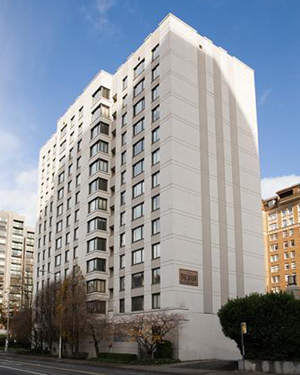 The Decatur Condominium (website), located at 1105 Spring Street on First Hill, announced they are planning to sell its remaining 63 units through Realogic's Bulk Sale program – selling the homes in blocks that feature bulk prices ranging from 25 percent to 35 percent off the original list price. One-bedroom and two-bedroom homes will now be selling from $179,900 and $264,900, respectively.
"Our client seeks to accelerate sales so that first time homebuyers receive the full benefit of federal tax credits," said Dean Jones, President and CEO of Realogics, who is handling the marketing and sales for The Decatur. "Together, we've developed an exceptional value proposition and a unique sales approach to encourage buyers off the fence."
Under the bulk sales program, three blocks of 21 units will be released for sale in sequential phases. Individual unit reservations are available for a $500 holding fee, which becomes applicable to the earnest money deposit. A few weeks later the reservation holders will be aggregated to sign Purchase and Sale Agreements and benefit from others joining in the bulk sale – the more homes that sell, the lower the pricing for the group.
Other incentives include:
Bulk pricing up to 35 percent off original list prices (the more units sold, the lower the price)
Zero down payment financing on select products
Zero closing costs before Nov. 30, 2009 (timed for the first-time buyers tax credit deadline)
Available interest rates below 5 percent on approved credit
Innovative mortgage payment assurance program (in case homebuyers are laid off from work)
During The Decatur's initial release in 2007, 83 of the 146 homes were sold before the development was acquired by Sandalwood Management, who completed the building improvements and held the remaining units until the market improved.
"Buyers have been trying to time the market and so we've been patiently waiting along with them," said Joel Ospovat, principal of Sandalwood Management. "The market is heating up and we're going to help make their decision to buy a lot easier by offering a volume discount to our early buyers–provided they act quickly."
Ospovat hopes to close the first release of 21 homes by Nov. 30, but resisted the trend to auction units.
"We're providing the same value proposition, while eliminating the inherent risk and stress of competing at an auction," Jones said. "If homebuyers are going to benefit from perishable tax credits, they need to lock up a unit now and move confidently towards closing; there's no time for surprises. We're offering homebuyers a sales experience that is as considerate as it is rewarding."
The first block of units will be released on Saturday, Sept. 26, during an open house event at The Decatur (open 11a.m. – 5p.m., Sept. 26–27). Reservations will be converted to Purchase and Sale Agreements beginning Oct. 17 and must close by Nov. 30 to benefit from the bulk sale pricing, potential tax credits and other incentives offered by the seller.
The "Payment Assurance Plan" offered by Cobalt Mortgage is unique to the industry and provides assistance to borrowers if they become unemployed within 24 months of closing. Mortgage payments up to $1,800 will be provided for up to six months to help homebuyers establish new employment without getting behind on their mortgage. Certain conditions apply.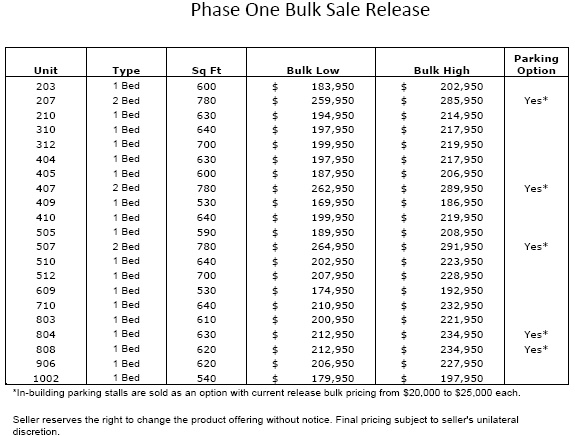 View floor plans (8.3mb PDF)
View available Decatur condos for sale.
Adapted from press release.