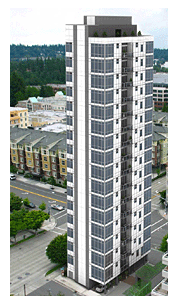 Just when you thought the market had burst and the new condominium pipeline was drying up, one developer is seemingly bullish. GIS International is resurrecting its unique European Tower (website) development in downtown Bellevue. The slim 17-story tower features just one home per floor and were originally priced from $2 million and up when introduced in early 2007.
According to a letter by Eugene Gershman, COO of European Tower / GIS International Group, the European Tower project is moving forward. Gershman stated:
We believe now is the right time to begin construction on this one of a kind project. No one can dispute the excitement and pride of owning an entire floor you call home. The opportunity to purchase one of only 16 distinctive homes does not come around very often. Just as any fine craftsmen would do; we have been waiting and watching, learning from our buyers, and applying those lessons to improving European Tower.

With the reduced global demand for labor and materials I have tasked our team to find a way to deliver our original vision at today's market. Over the past several months we have been working tirelessly to secure updated contracts to make this a reality. I am pleased to say we are now ready to lower prices by as much as $2,000,000 per home. Full floor customizable shells at European Tower start as low are (sic) $700,000 and feature the same level of interior options, automated valet parking, and a full time concierge.
European Tower is now accepting names for its interest list, which is expected to close by October 31, 2009. Shortly after interested buyers will be offered a purchase contract to move forward. European Tower is anticipating a Summer 2011 completion date.