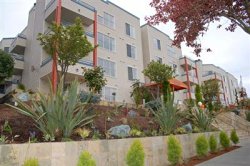 The WestWater, a recent condo conversion development in West Seattle is going back to its old roots, sort of. With 45% of the units unsold, the developer took them off the market last week and is now renting them out.
The WestWater hit the condo market nearly a year ago just after the market started to turn downward. And, even with other developers bailing out of conversion projects in West Seattle (the Strata and the Gables), the reduced competition wasn't enough to boost sales activity at WestWater.
Rental prices at WestWater starts from $950 for a one-bedroom and $1,250 and up for a two-bedroom.
I can certainly see the decision on the developer's part, to minimize the cost and drain on resources for carrying and marketing unsold products, as well as, trying to generate cash flow. But, the decision may adversely impact those buyers who purchased at WestWater. The rentals will affect potential resales as the property may not qualify for financing due to ownership level requirements. On the other hand, potential resales would have been tough anyway as owners would've been competing against the other 45% of the units that were still for sale.