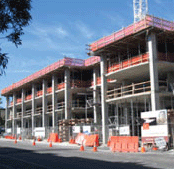 One Main Street – Bellevue, just announced they will begin hard hat tours soon. Call the sales office to make an appointment if you're interested. Visit www.onemainstreet.com for more info.
Gallery – Belltown, recently relocated their sales office into a townhome unit in the Gallery building at 2nd and Broad. They have a couple of model homes staged and should have seven model homes ready shortly. The first five floors are complete and residents started moving-in this past Friday.
I recently toured the property but the sales staff was a bit disheveled and only had keys to one unit, and couldn't provide access to common amenities. I'll reserve judgment of the development until I can get back for a comprehensive tour. But, if there was one item I was disappointed with it was heating – baseboard and stand alone forced air wall heaters, in a $600,000 unit no less. There are still assignment opportunities available, just saw one on Craigslist. For more info on Gallery, visit www.liveatgallery.com.
Veer Lofts – South Lake Union, is nearing completion and expects to receive its TCO in the next week or two, with first move-in by the end of the month. Currently, the project is about 60% sold so there's still a number of options for anyone interesting in pioneering SLU condo living. Visit www.veerlofts.com for more info.
Canal Station – Ballard, hosted an agent event last night, a final push to close out sales in phase two. A recent price reduction may make the development appealing to hesitant buyers with one-bedrooms starting from $265,000 and two-bedrooms from $415,000.
I spoke with a owner in phase one who lamented the falling values, especially now that phase two is priced below phase one. At the present, he's realizing a decent-sized loss in value, but hopefully the new pricing will entice buyers, leading to a reduction in Ballard's condo inventory. Visit www.canalstation.com for more info.
1521 – Downtown, expects first move-in to begin this November.