The WestWater Condominium (website) is a recent conversion development located in West Seattle at 6960 – 6970 California Ave SW. Originally built in 1989, the two building 4-story complex contains 71 condominium homes with an expansive community courtyard.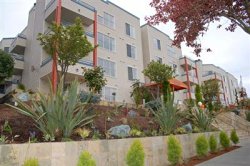 The WestWater came on the market last year and has sold about half of its inventory, not bad considering the present market environment.
The development features 55 one-bedroom units that range in size from 575 to 700 square feet and priced between $225,000 and $300,000. The 16 two-bedroom units are 900 sq ft in size and priced from $320,000 to $370,000. Currently, WestWater is offering one of the most progressive buyer incentives I've seen – 6 months of paid mortgage payments (check with the sales office for full details).
Inside, the units are nicely appointed with above average finishes, definitely higher quality compared to the developer's other projects. Home features include:
Hardwood, marble tile and carpet flooring
Slab granite countertops in kitchen & bath
Wood cabinets in kitchen
Stainless steel appliances
Baths with marble tiled surround & floors
Front load Maytag washer and dryer
Fireplace, in most homes
Parking in controlled access garage
Decks with Sound views
Additional storage is optional
Pet friendly
Most homes have West facing decks and/or windows that provide bright interiors and views of Puget Sound. If you visit, I suggest that you look past the staging decor which perpetuates the developer's preference for Miami retirement chic. Fortunately, homeowners can apply their own design style.
Residential amenities include a community room & courtyard. The slate-tiled common courtyard offers a great place to hang out and is equipped with a fire pit, BBQ and water feature. It's also situated above street level offering some privacy from passing pedestrian & vehicular traffic. The community room includes a wide-screen tv, card table, kitchen and fitness equipment.
WestWater is located in the Gatewood district of West Seattle, two blocks South of Morgan Junction. While that may seem far it's only 6 miles from downtown, which is about the same distance between downtown and Greenwood.
The sales office is open daily from 10 am to 6 pm.
WestWater is developed by the Gamel/Mastro partnership whose other projects include Sapphire, Asia, Onyx, Athena and Epic. The project recently changed marketing firms, which is a good thing in my opinion. The new marketing team, CB Bain Builder Solutions, is comprised of seasoned condo marketers.