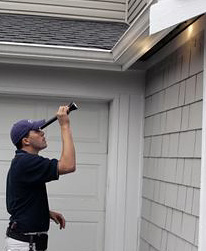 Everyone knows it's not safe to smoke in bed or fall asleep with candles still burning. But what many people don't think about is if their home is safe and how to properly react if a safety hazard does arise.
During a standard home or condo inspection our focus is on owner education with an emphasis on recommended safety upgrades. This is particularly important if you have elderly parents and/or small children living with you and if your home was built 20+ years ago. The building requirements (codes) have changed considerably over years, drastically reducing the number of fires, shocks, fall hazards and deaths as a result.
 
1. Make sure smoke alarms are operable.
If your smoke alarms are more than 10 years old the National Fire Protection Association recommends they be replaced. Older installations only have alarms on each floor and outside each bedroom. Today, requirements call for smoke alarms to be hardwired with battery backup in bedrooms, hallways and on each floor. The newer requirements have drastically decreased burns/fires from scenarios such as candle fires or smoking in bed.
2. Know where to shut off the gas.
If you are in a condo ask your homeowners association what to do in case there is a gas leak at your fireplace, water heater or gas cook top. These items generally have an external shut off separate from each device but if you don't know where it is ask the HOA or review the owner's manuals. Also there should be a gas shut off valve below your gas meter which will turn off the gas to your entire home, and you'll need a wrench to turn it off. When turning the gas back on, it's recommended that it's done by a professional gas service provider.
3. Know where your water shut off valve is.
Water leaks are a big area of concern, especially if you're considering upgrading the toilets, sinks, and so forth. Often times the shut off valves for these older systems can be frozen or easy break during construction and the next shut off valve location can be buried under the house or out in the street somewhere. It's important to know where this valve is and how to turn it off when the need arises.

4. Know how to shut off water flow to the hot water heater.
If you have a hot water leak you'll need to have clear access to the water heater and the shut off valve on top of the water heater. Shutting off water flow to the water heater will stop the out flow of hot water immediately; otherwise you will be draining the system before the water flow stops. A useful tip to decrease the hot water flow in the leakage area is to turn on the water where it's draining properly somewhere else, like a shower or sink.
5. Know where your electrical panel is and how to shut it off.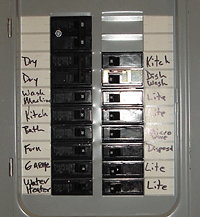 The electrical panel, which contain circuit breakers, is usually located in a closet, bedroom, utility room, the basement and in some cases, outside the dwelling. Inside the panel, look for a large breaker. This is the main electrical disconnect and turns off all of the power for your home (depending on the size of the house the breaker is probably at the top and has a number, either 100 or 200, representing amperage rating). In condos, individual units may not have a main electrical disconnect, but instead have individually labeled breakers for different zones in the unit (e.g. bedrooms, kitchen, bathroom).
Prior to working on any electrical elements in the home (e.g. changing receptacles, cover plates, light fixtures), it's important to shut off the circuit breaker to prevent an electrical shock or even a house fire. A good rule to live by when working with your home systems is, when in doubt call a professional.