Colonial Grand Pacific | 1119 1st Avenue, Seattle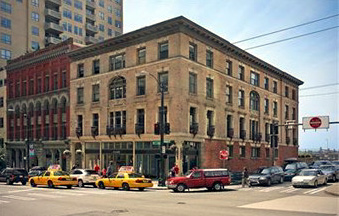 The Colonial Grand Pacific Condominium is located in downtown's West Edge neighborhood and is comprised of two historic buildings constructed at the turn of the 20th century – the Colonial Hotel and the red brick Grand Pacific Hotel. The Grand Pacific is designed in the Richardsonian Romanesque style.
Homes in the mix-use buildings surround a central interior courtyard and consists of flats and two-story townhomes. Parking is not available within the building, but a skybridge links the Colonial Grand Pacific to an adjacent parking garage that is available for a minimal monthly fee.
Situated between Pioneer Square and the Pike Place Market, residents enjoy the convenience of shopping, dining, art and entertainment opportunities within blocks of their front door.
Number of floors: 4
Number of units: 37
Amenities: Secured entry, lobby, courtyard, access
to nearby parking garage
Completed: Colonial in 1901, Grand Pacific reopened in 1902 following the Great Seattle Fire (originally built in late 1890's).
Pet Friendly: Yes
View downtown Seattle condo buildings. Click on links for more information about these properties: