This afternoon Lorig Associates hosted a special tour of its exclusive 200 West Highland condominium (website) development located across from Kerry Park. The tour provided the opportunity to walk the building to get a feel for the home designs & features, building amenities, property layout and views.
The boutique development features just 25 two- and three-bedroom homes that range in size between 1,499 and 2,852 square feet. Two of the homes are unique, located on street level, as they are accessible through a semi-private interior lobby as well as an exterior entrance. Both of these "garden homes" also have sizable landscaped terraces.
Currently, workers are framing the interior walls of the penthouse level, so there's still quite a bit of work to be done. Completion is anticipated for this Fall, most likely in December.
Living area of Penthouse 501, 11′ ceilings: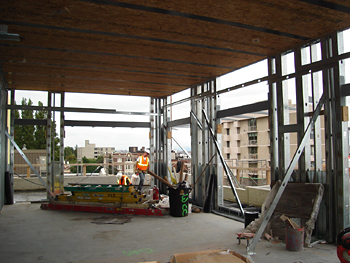 View from Penthouse 502 towards downtown: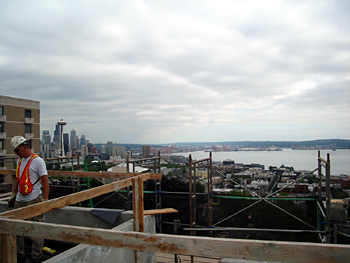 Open living area of Home 401, 9′ ceilings: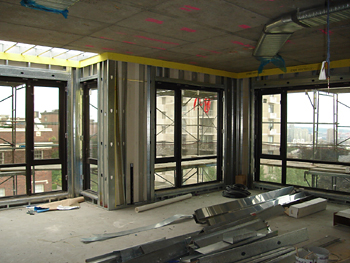 Private garden terrace of Home 107, view from street: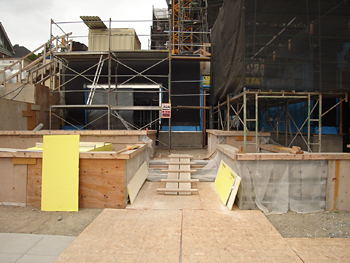 For additional home details & images, please see our 200 West Highland post.
Homes begin at $1,230,000 and range up to $3,980,000 for the Southeast corner penthouse. Currently, three of the homes have been spoken for. While the homes are available for purchase, with a 5% earnest money down payment, Lorig is not actively promoting pre-sales, preferring to market once homes are more fully developed. Interestingly, the developer is not providing upgrade or customization options.
Lorig has developed a number of other Queen Anne properties including the Victoria Condominium and Townhomes across the street from 200 West Highland, the Willis Condominium and Queen Anne High School.