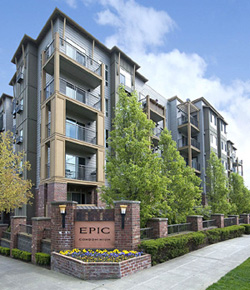 Located just south of Seattle Univerisity (by AM/PM), Epic is a condo conversion featuring studio, one- and two-bedroom units. The studios and one-bedrooms are located in the center while the 2-bedrooms flank each end of the building. Unlike the others profiled previously, the building is only three years old.
Home Interior features include:
granite slab countertops in kitchen
maple cabinets
slab marble countertops in the bathroom
balconies
appliances included washer & dryer
Hardwood floors and stainless steel appliaces are optional.
Building features include:
Business Center
Fitness Center
Flat Panel TV Theater
BBQ Area
Interestingly, buyers will have the option to purchase units "as is" and update it themselves, or purchase one that has already been updated. Prices start from $199,000.