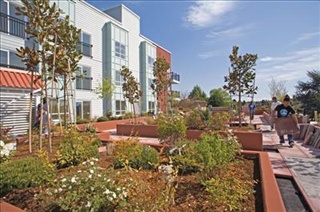 Updated 4/28/07
This new construction project in Greenwood has flown under the radar. They officially began sales during their Grand Opening on Saturday 4/28 and apparently they anticipate a rush given their "Rules of Sale" which state:
Doors open at 10 AM
Limit to 2 units per customer
$3,000 deposit required
First come, first served
All units to be sold in 60 days
Must be pre-approved by on-site lender
Home and building amenities include:
GE Stainless steel appliances
Hardwood floors (laminated hardwoods)
European-style cabinetry in kitchen & bath
Slab granite countertops in kitchen & bath
Tiled granite floors in bath
Tall vanities bath
Ceiling fans in bedrooms
Fitness center w/Plasma TVs
Billiard & card tables (located off the lobby)
Private park on property
Terrace with waterfall & BBQ
Washer & Dryer with every unit
Parking with every unit
Pets ok, subject to restrictions
Note: They actually began soft sales on Wednesday. When I arrived at the sales center at 10:30 on 4/28, 24 of the 55 units were sold. By the time I left an hour later, an additional 3 units were sold.
The project consists of 13 studios, 22 one-bedrooms and 20 two-bedrooms. Prices start at $169,000 for studios and two-bedrooms range from $329,000 to $400,000 (I don't have info on the one-bedroom pricing).
The homeowner dues are quite high, especially compared to downtown condos. They listed dues for a 446 sq ft studio at $250…that's $.56/sq ft. Dues for studios are $250, 1-bedrooms are $285 and 2-bedrooms are $348. They stated the dues include the cost of the King County sewer capacity charge.
Overall, I was impressed with the project particularly considering the price ranges, unit size, numerous floor plan options, large entertainment terrace and a landscaped park area. The finishes were standard (laminated cabinets, basic carpeting in bedrooms) but better than I've seen in comparably priced conversions. Plus, there were many small touches such as a ceiling fan in every bedroom, fixtures, spacious closets, high ceiling heights and so forth.
It's located close to the heart of Greenwood at 424 N 85th Street (map) about 2 blocks from Greenwood's many restaurants, cafes and antique shops. Homes facing 85th can expect noise as 85th is a major East-West thorough-fare.
Here's their website…though, it only has a registration form. The developers are Gamel & Mastro Properties who were the principals behind the Onyx and Epic conversions. A site registration applies.
View available Sapphire condos for sale.
Related Story: Seattle PI article