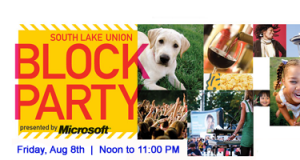 Where:
Corner of Westlake and Denny (next to the Discovery Center)
What:
A lively summertime celebration in Seattle's hottest neighborhood, a full day of outdoor fun and entertainment for all ages and a fabulous display of dog dexterity. Who could ask for anything more? South Lake Union's 4th annual Block Party presented by Microsoft is back this year on Friday, August 8.
Relax under the summer sun, sample food from several of South Lake Union's savory neighborhood restaurants, socialize with friends in the Redhook beer garden, watch local chefs battle it out in the Whole Foods Market Audacious Burger Challenge, entertain the kids with fun interactive games and activities, groove to the sounds of local bands on the live music stage, enjoy a one-of-a-kind wine tasting event, watch a movie screening under the stars and much more!
This year's Block Party will be partnering again with CityDog Magazine to feature the 2nd annual Muttmazing Race, an obstacle race for dogs and the owners that love their pooches. It's all for a good cause—money raised by the race will benefit the Seattle Animal Shelter's Help the Animals Fund.
PLUS – Cinema on the Lawn featuring "Juno".
FREE ADMISSION