If you've been by the Space Needle recently you'll have noticed a hub of construction activity along Denny Way near Aurora. Currently, four projects are under way including two apartments, a hotel/apartment complex and a new condominium.
The Marselle Condominium, at 115 Aurora Ave, is the latest addition to the burgeoning area just north of downtown. The 7-story frame-constructed building will encompass 132 condominium homes ranging from 347 sq ft to 1,730 sq ft. Penthouse level homes will include a mezzanine level that opens to the roof top decks.
Every unit will come with parking and storage. Common building amenities include roof top decks with views of Lake Union & downtown, a billiard room, a resident lounge and a wellness center with cardio machines, weight training equipment and yoga space.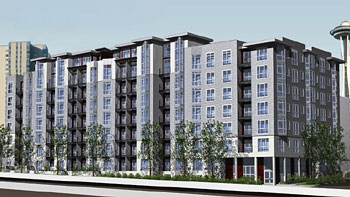 Given its location along Aurora, I asked about the noise reduction methods being used. According to the developer, the wood framing will have 1 1/2 inch gypcrete with 1/4 inch sound damping mat for all framed floors while ceilings and interior walls will have R11 sound insulation. Hard surface floors will be laid over a soundmat/pad.
I also inquired whether they had any concerns about developing condos in light of current market conditions as well as recent events with nearby projects.
Our company focuses on providing a quality product for a great value. We have already had a huge response from word-of-mouth contacts and believe our project will fill a much-needed void in the market of affordable city living (units beginning at around $415/SF). [Other developments] converting to apartments will only intensify the need for housing downtown in our price range.
Should Marselle be able to maintain the $415/sf starting price point, it'll be attractively situated in the downtown-core new construction marketplace. For comparison, the highly touted Moda Condominium started at $500/sf which did not include parking for every unit.
Occupancy is slated for Summer 2009. The project is being developed by Marselle Partners who also built the Marc and Matae condominiums. Stay tuned for pre-sale information. In the meantime, the developer is compiling a pre-sale buyer list. Please contact the developer at:
Marselle Partners / Sierra Construction
(425) 487-5200