The good news about Seattle's condominium market is that market values continue to reflect a strong increase over 2006. City-wide, the median sold price in October was $318,500, an 11.4% increase over October 2006. Queen Anne and Capitol Hill also reflected double-digit median price increases over the prior year as well. As has been the case all year, values have been increasing while the number of sales decline and the available inventory grows. In the course of 2007 we've moved from a seller's market towards a normal market, based on the absorption rate. As the last two months are usually the slowest it's not unreasonable to think that we'll inch over towards a buyer's market by the end of the year.
Although the overall market is teetering towards a buyer's market environment, several neighborhoods and lower price ranges remain highly desirable with ample buyer demand.
Total active Seattle condo listings increased by only 42 listings to 1,573 from September to October. Compared to a year ago, inventory is up 76.2%. Pending sales increased 8% in October compared to September which helped to reduce the absorption rate slightly from 5.8 to 5.5 months. This was expected as there's normally an uptick in market activity between the end of Summer and the start of the Fall holiday season.
The absorption rates throughout Seattle, with the exception of Queen Anne/Magnolia, reflects a normal market environment. And, notably, the absorption rate in MLS areas 390 (Cap Hill/Mad Park), 701 (DT, Belltown, Int'l District) and 710 (NE Seattle) fell in October. Lower absorption indicates a seller's market, higher absorption rates reflects a buyer's market.
In respects to inventory levels, one factor to consider is that over the past few months hundreds of pre-sale condo units have been added to the MLS which partly contributed to the substantial increase in inventory. But, the reality is, those units have always been available throughout the year, they just weren't reflected in MLS statistics. In fact, most pre-sale purchases are never recorded in the MLS.
In reviewing the information below, bear in mind that this is only a snapshot of October 2006 and October 2007 sales results rather than a 12-month running stat between October 2006 and October 2007. For instance, downtown/Belltown is showing a 21.3% decrease in median price, however, through 2007 downtown/Belltown is outperforming 2006.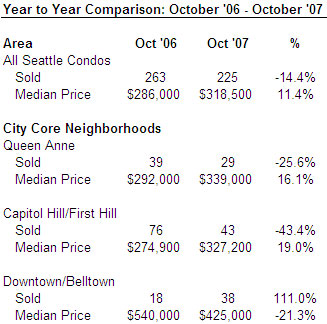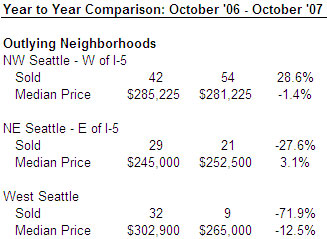 Compared to September 2007, October reflected the continued softening of Seattle's condo marketplace. Virtually across the board, the number of unit sales and median prices decreased throughout the city.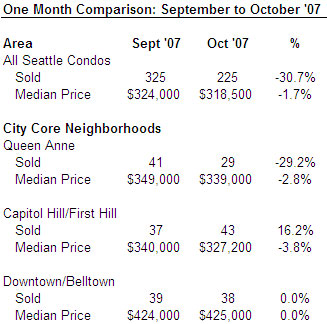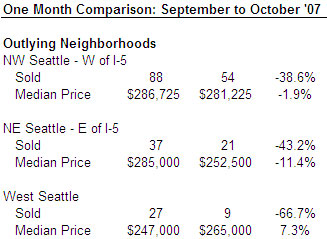 Source: Provided but not compiled by the NWMLS. Table data is based on neighborhoods rather than MLS areas.