Where is the Seattle condo market heading? There's lots of speculation but no one knows for sure. Though, we can look at what the market has done this past year.
Before we get into that, I just wanted to comment on reports we're hearing from the media. Most articles that reference Seattle, namely national reports, refer to the Seattle metropolitan area which can stretch anywhere from Lynnwood to the Eastside to Tacoma. So, it's not necessarily indicative of the Seattle proper real estate market. Additionally, there are differences between the single family home and condo market, as well as, geographical market differences. A significant portion of the condo inventory increases are located in the downtown core and do not necessarily translate to a buyers market in less (condo) developed areas of the city where there's limited supply.
The following graphs reflect Seattle city-wide data (MLS Areas 140, 380, 385, 390, 700, 701, 705, 710).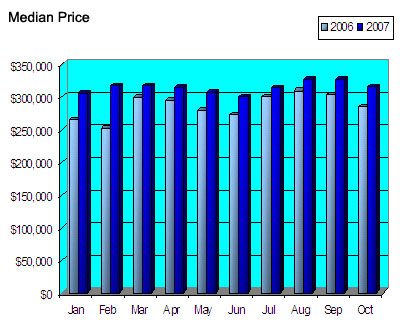 There was a decrease in the median price in October…does that mean the sky is falling and bargains are to be had? Well, not exactly. The 2007 median price has outperformed 2006 levels all year long. Buying activity increased in October and the median price surpassed the prior year by over 10%. On the other hand, there are properties that have been sitting on the market so we might expect a better buyer negotiating position.
Lots of graphs…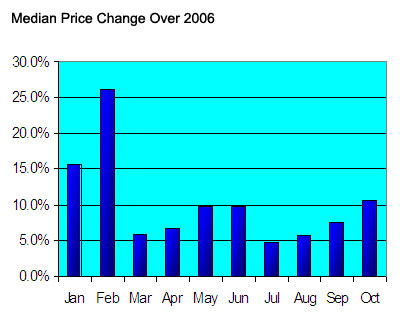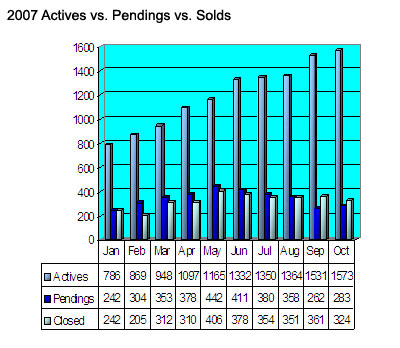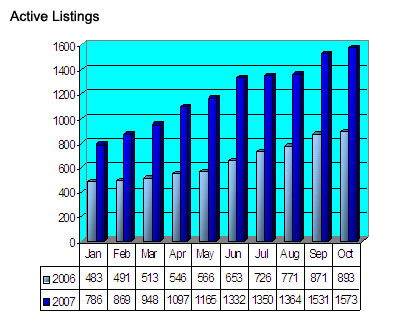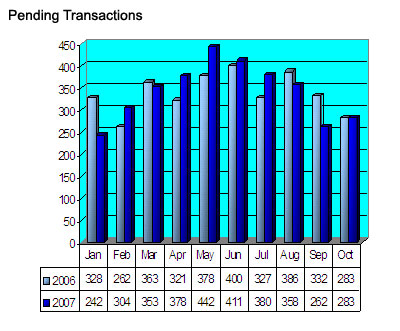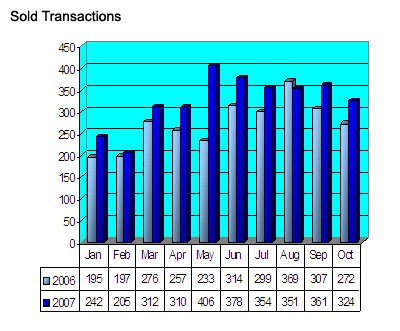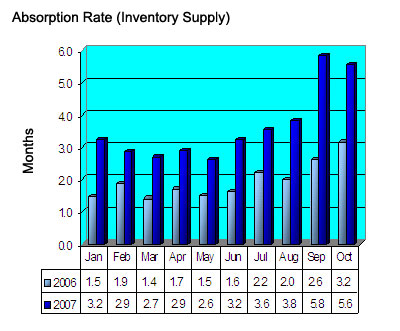 The Absorption Rate (active listings divided by pending transactions) state the number of months that the current inventory will take to sell based on current demand if no new listings come on the market. This is the barometer used to determine market condition – buyers market, sellers market, normal market. Sometimes you'll see closed transactions used but pendings are more accurate as they provide current activity where closed transactions normally have a 30-45 day lag.
The October drop can be attributed to the increase in buyer purchases last month as well as sellers taking their condo off the market for the season.
2006 clearly indicated a strong sellers market as has most of 2007. The inventory increase in September shows the market is normalizing, not a buyers market. Should the rate continue an upward trend – high six's into the seven's, then we can say we're heading towards a buyers market. (Note: The September spike is partly attributed to pre-sale units being added to the MLS which increases the MLS inventory count but has no effect on the actual inventory supply as they have always been available. Approximately 25% of new listings are pre-sales.)
I anticipate the inventory level will remain fairly stable through the end of the year though the Absorption Rate will likely increase as fewer purchases are made during the holiday season, reducing the Pendings count.
Source: NWMLS