The Matae Condo | 159 Denny Way, Seattle WA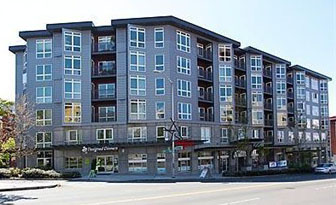 Completed in 2006, The Matae is low-rise wood frame condo building (on concrete base with metal/vinyl exterior) situated on the edge of Belltown and Lower Queen Anne. Interior finishes include hardwood floors, granite countertops in the kitchen, stainless steel appliances and marble countertops in the bathroom.
The building is located on busy Denny Way across from the Seattle Center so noise may be a factor for units fronting Denny Way on the north side of the building. The south facing units overlooks an alley and is presumably quieter.
Number of floors: 6
Number of units: 78
Amenities: Community club room, fitness center, roof top deck
Completed: 2006
Pet Friendly: Yes, subject to restrictions
View other Belltown Condo buildings. Click on links for more information about these properties:
The Matae Condo | 159 Denny Way, Seattle, WA 98109