Pomeroy Condominium | 2319 1st Avenue, Seattle WA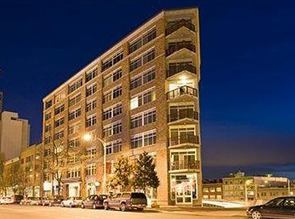 The Pomeroy is one of those fairly non-descript buildings on the outside, but is gorgeous on the inside. It's location is both a blessing and a curse. Situated on 1st Avenue between Bell and Battery, it's in the heart of Belltown and a short walk to everything. On the other hand, it's in one of the noisiest areas of Belltown possible as it sits right above the Alaskan Way Viaduct at the Western Avenue off ramp with nearby nightclubs and restaurants. But, that might be less of a issue once the viaduct comes down.
Yet, this 8-story concrete & steel building offers amazing city/water/mountain views, sizable floor plans, sleek upscale interiors, an elegant lobby and roof top deck.
Number of floors: 8
Number of units: 54
Amenities: Secured lobby entrance, roof top deck, views
Completed: 2000
Pet Friendly: Yes, subject to restrictions
View other Belltown Condo buildings. Click on links for more information about these properties:
The Pomeroy Condo | 2319 1st Ave, Seattle, WA 98121