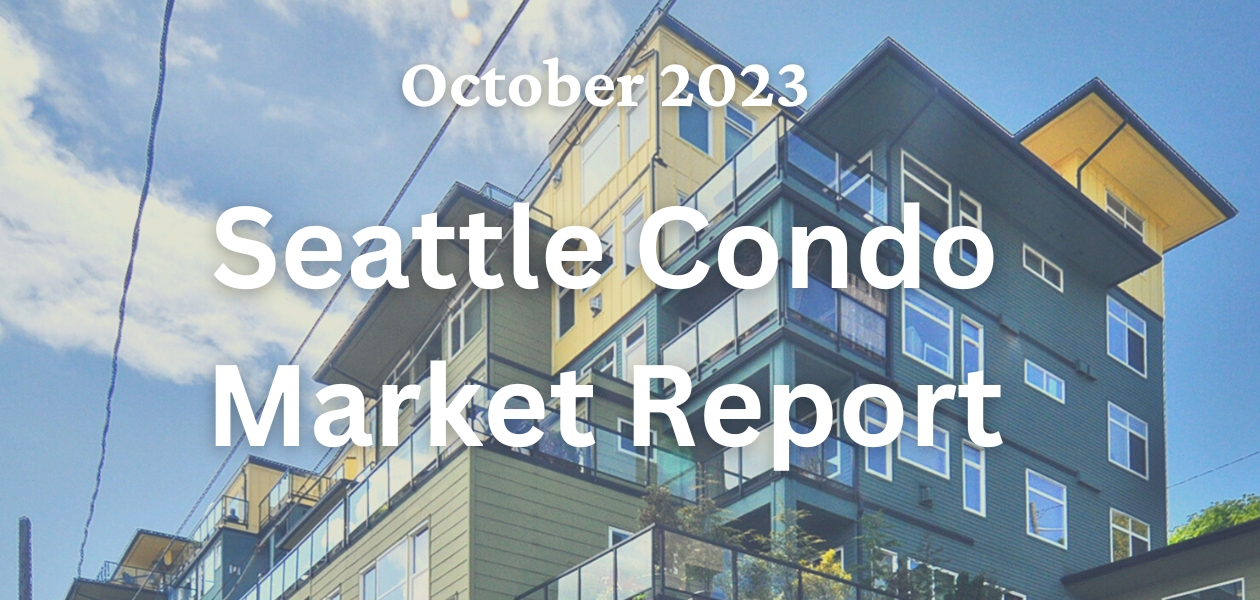 Seattle's condo market sustained premium values in October even as sales trailed off with the start of our seasonal slowdown.
The Seattle citywide median sales price for condos was $573,750 in October. That reflected a year-over-year and a one-month increase of 9.8% and 4.3%, respectively. And, was also the 2nd highest monthly median sales price on record.
One factor for the increase was due to a number of higher end, luxury properties closing last month. Another factor is the classification of new townhomes and single family homes with DADU/ADU as condominiums, which tend to be higher priced. These properties made up 18.8% of the sold units in October. If we exclude these, the median for traditional condominium units would have been $532,475 for the month.
By NWMLS neighborhood area, Queen Anne / Magnolia (+25.4%), Northwest Seattle (+14.4%) and West Seattle (+30.4%) experienced increases in their respective median sale prices. On the other hand, Northeast Seattle (-15.9%) and downtown (-1.4%) saw values dip. See complete neighborhood breakdown here.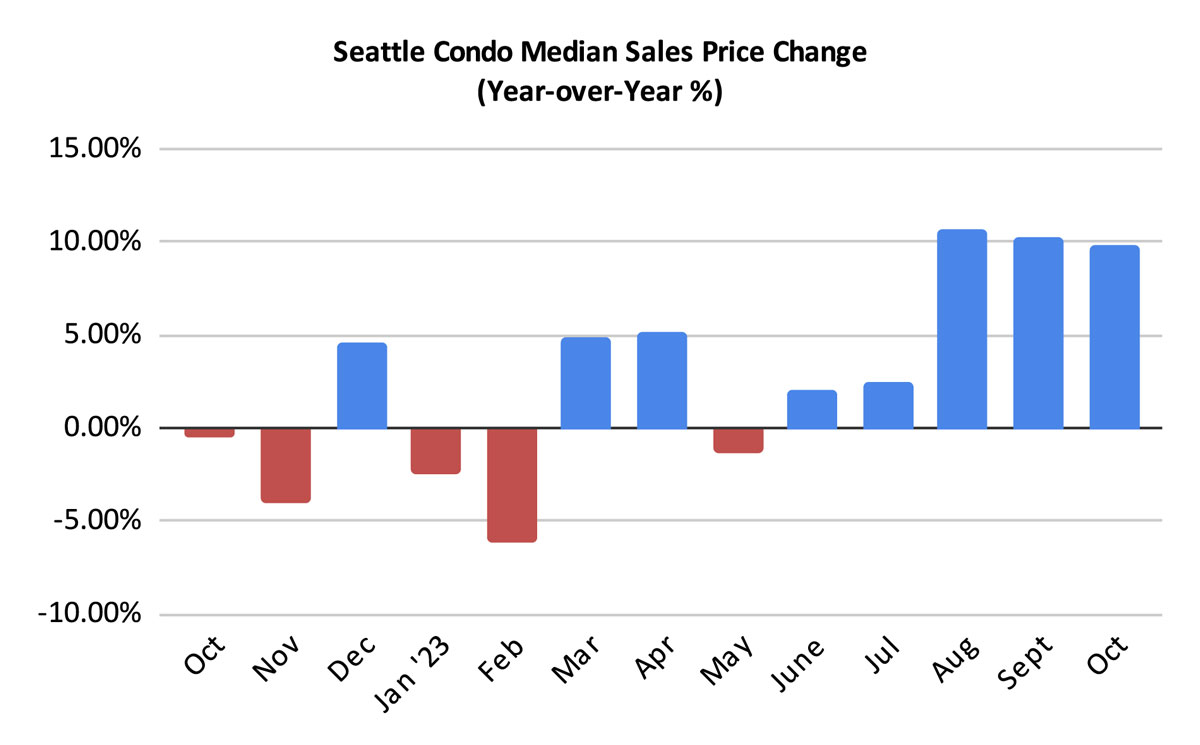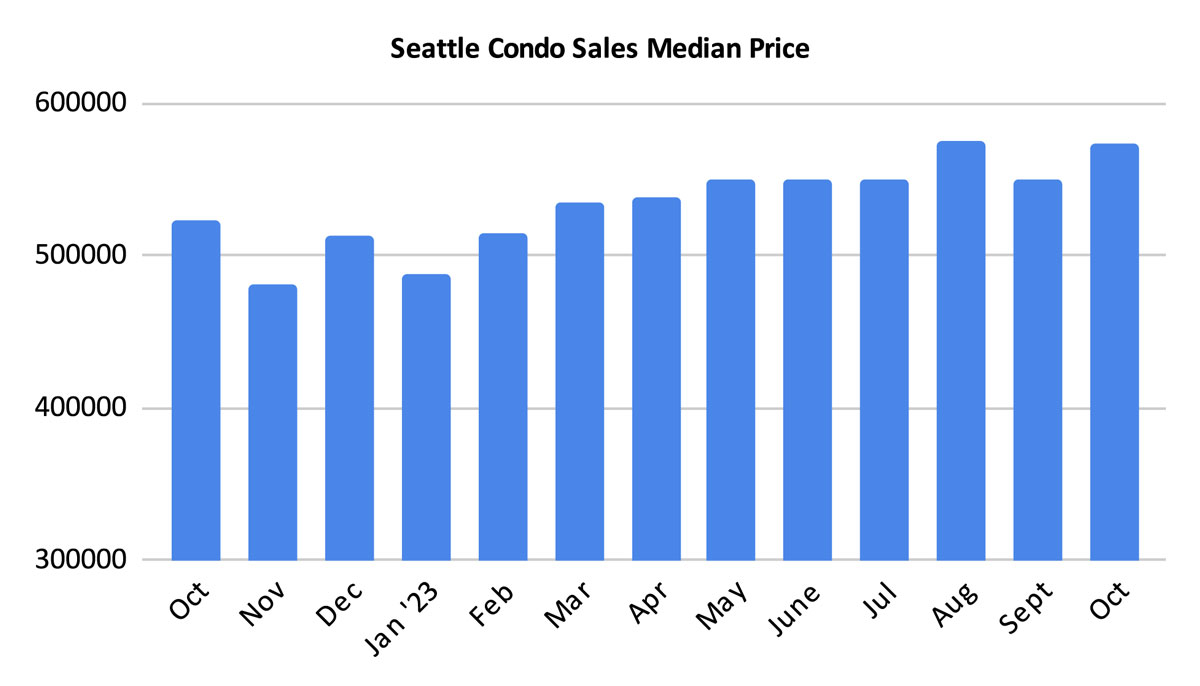 The number of active listings remained relatively steady in October. We ended the month with 632 units for sale, reflecting a slight one-year increase of 2.3% and a one-month drop of 1.4%.
However, in looking at new listings coming on the market in October, Seattle only had 265 newly listed units. That's 10.5% fewer compared to last October and a sizable 29.7% dip in new listings than we had in September.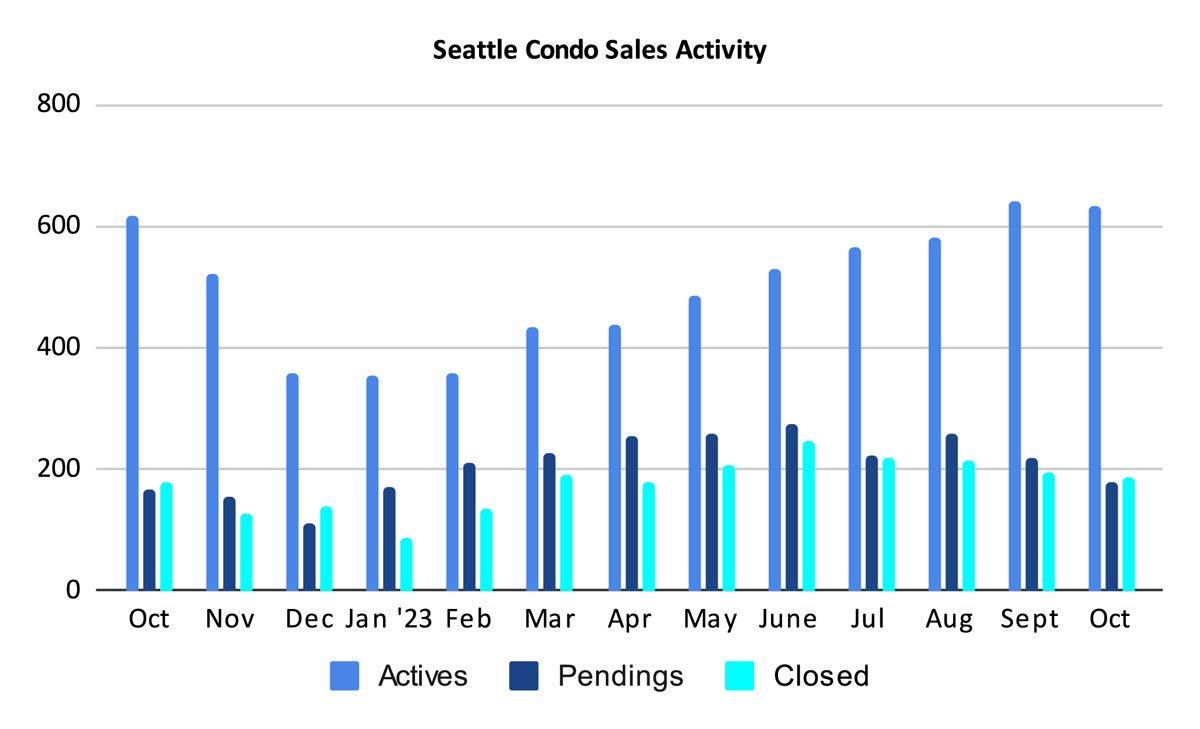 Even so, the inventory supply rate increased to 3.6-months of supply due to the downturn in sales activity. Though, that's about where we were a year ago.
The inventory supply rate is a metric that characterizes the market environment. A 3.6-month of supply places Seattle on the cusp between a seller's market and a balanced/normal market. That's partly due to the seasonal nature of our local market, which slows considerably during the Fall months with the turn in weather and holiday season. But, it will pick up again with the start of the new year.
Should we surpass 4-months of supply, we will be in a balance market.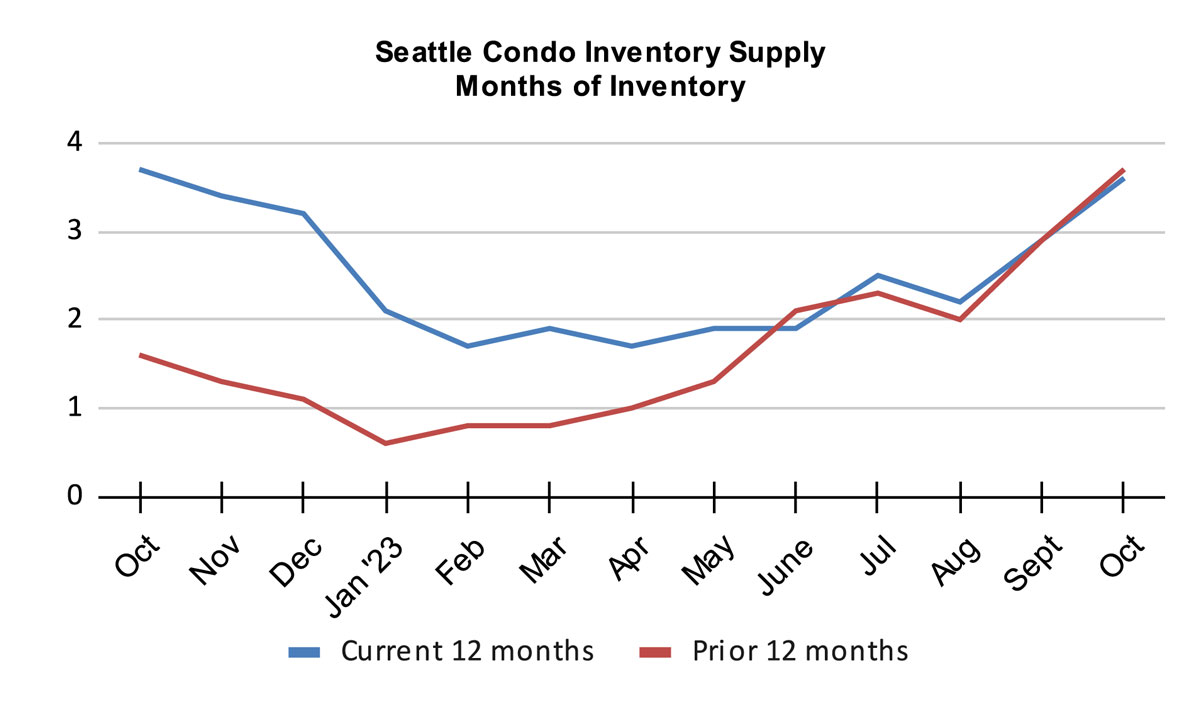 The number of pending sales transactions (listings in escrow) took a tumble in October to 177 units. While it outperformed the same period last year by 5.4% it also reflected a whopping 18.8% one-month drop in condo sales due to high interests rates and market seasonality.
With the increased monthly mortgage payment on top of HOA dues condos are becoming less attractive and more expensive, with fewer buyers able to afford them. Anecdotally, we've witnessed a number of buyers hop on the fence until next year to see where rates and values trend towards.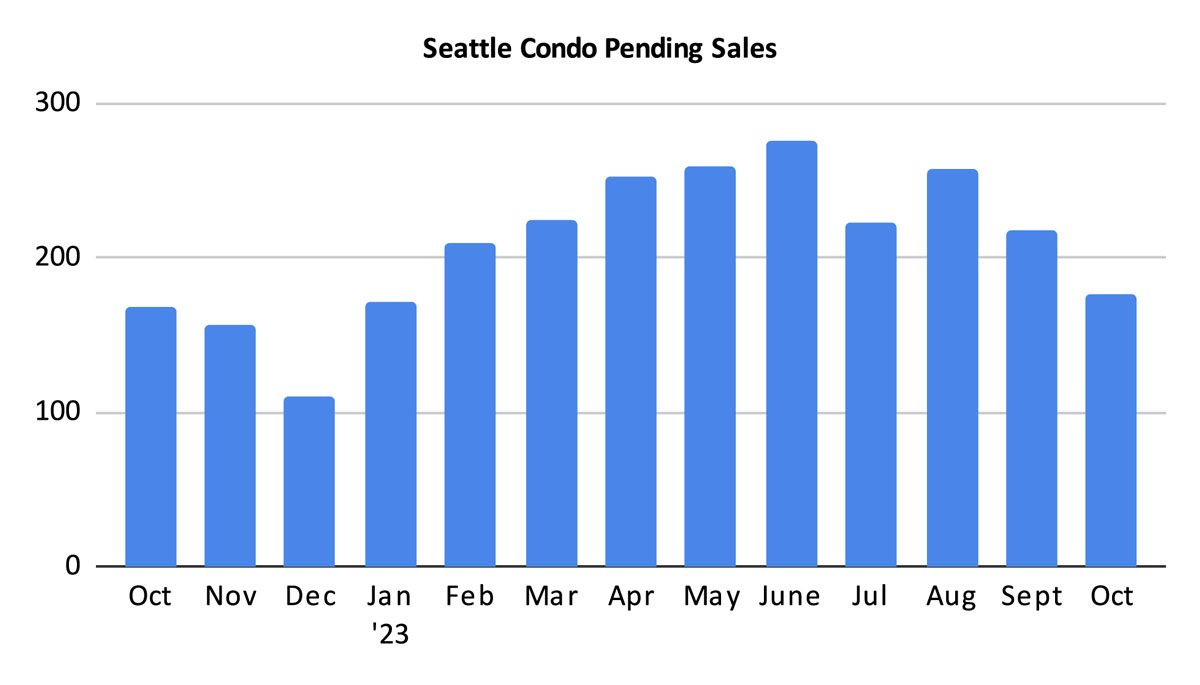 There were 186 closed condo sales in October, reflecting a one-year improvement of 3.3% as well as a one-month drop of 4.1%. With closings following pendings by a month, this number will decline further in November.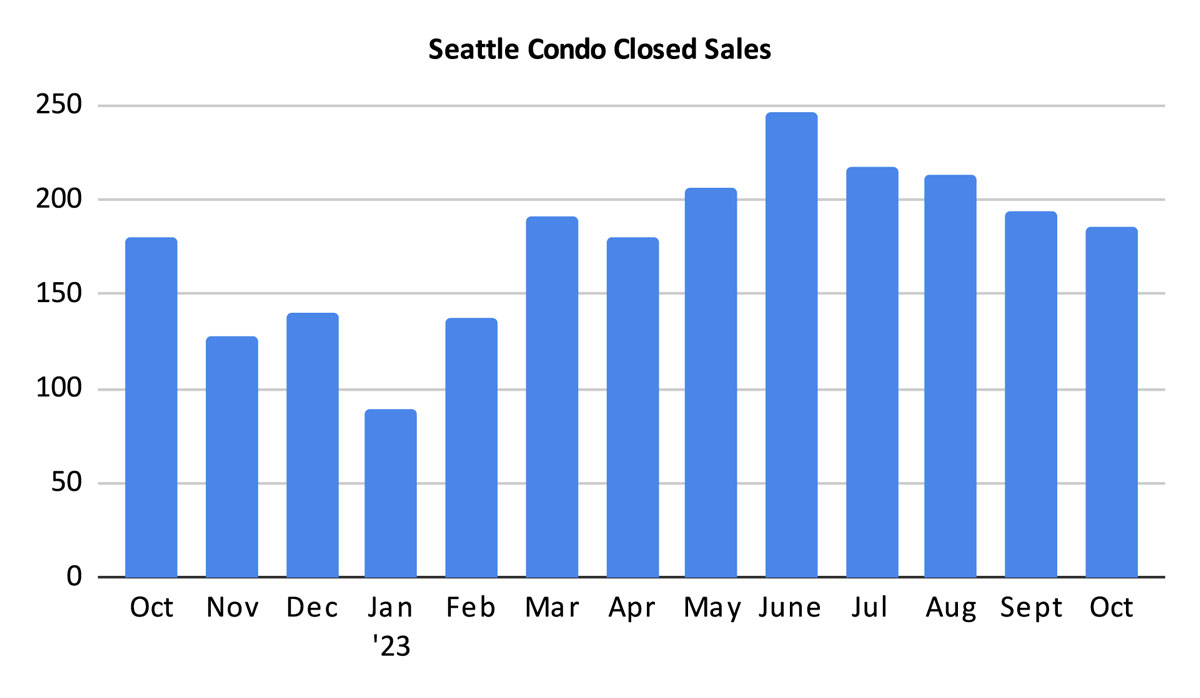 Closing out the year, the sales activity will stagnate. However, this is cyclical due to seasonal changes and the market will pick up with the new year.
Seattle Condo Market Statistics October 2023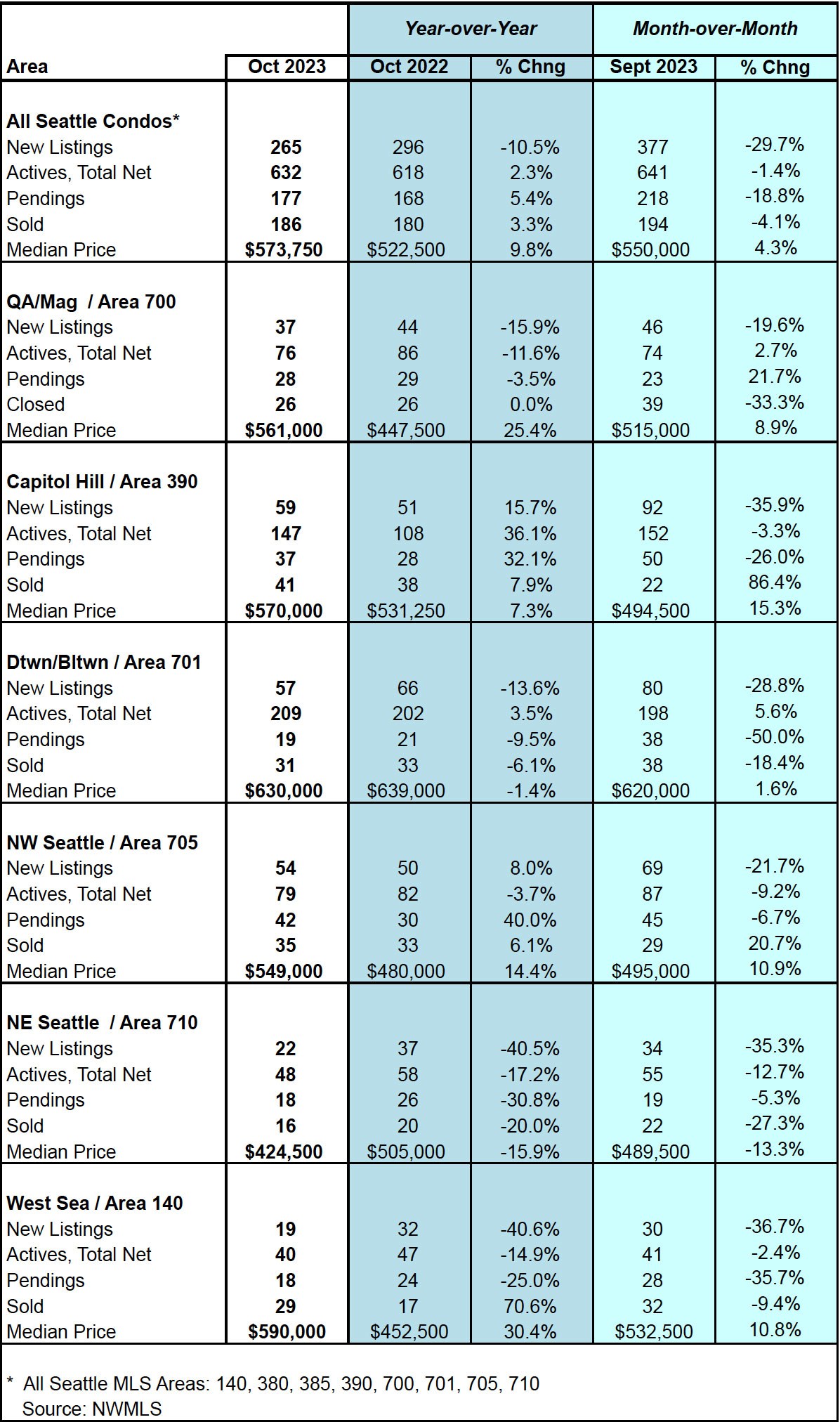 Source: Northwest Multiple Listing Service. Some figures were independently compiled by Seattle Condos And Lofts and were not published by the NWMLS.
© SeattleCondosAndLofts.com