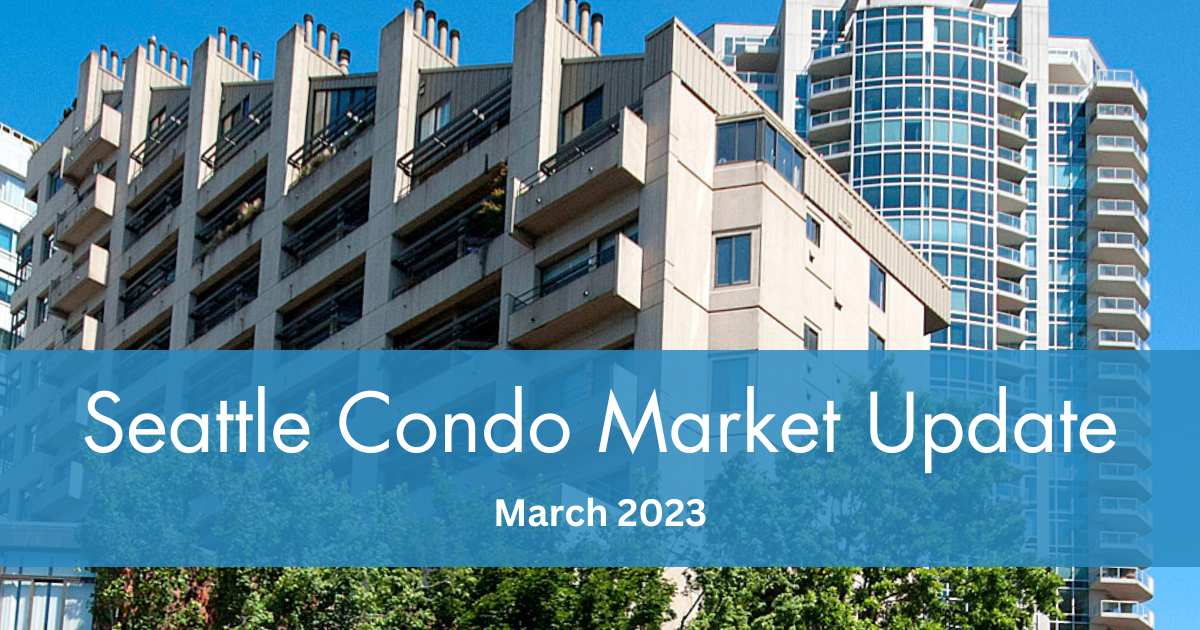 The spring real estate season finally made its appearance upon Seattle's condominium market. The March 2023 results reflected increased sales activity and improving prices.
Citywide, the median sales price for Seattle condos was $535,000 in March. That was an increase of 4.9% over the same period last year and 3.9% more than the previous month.
By NWMLS neighborhood areas, the three areas that realized increases in their median sale prices did so by double digits – West Seattle (+27.5%), NE Seattle (+16.9%), NW Seattle (+11.1%). On the other hand, the condo dense neighborhoods saw year-over-year decreases – downtown (-12.1), Capitol Hill / Central (-8.8%) and Queen Anne / Magnolia (-6.2%). View complete area results here.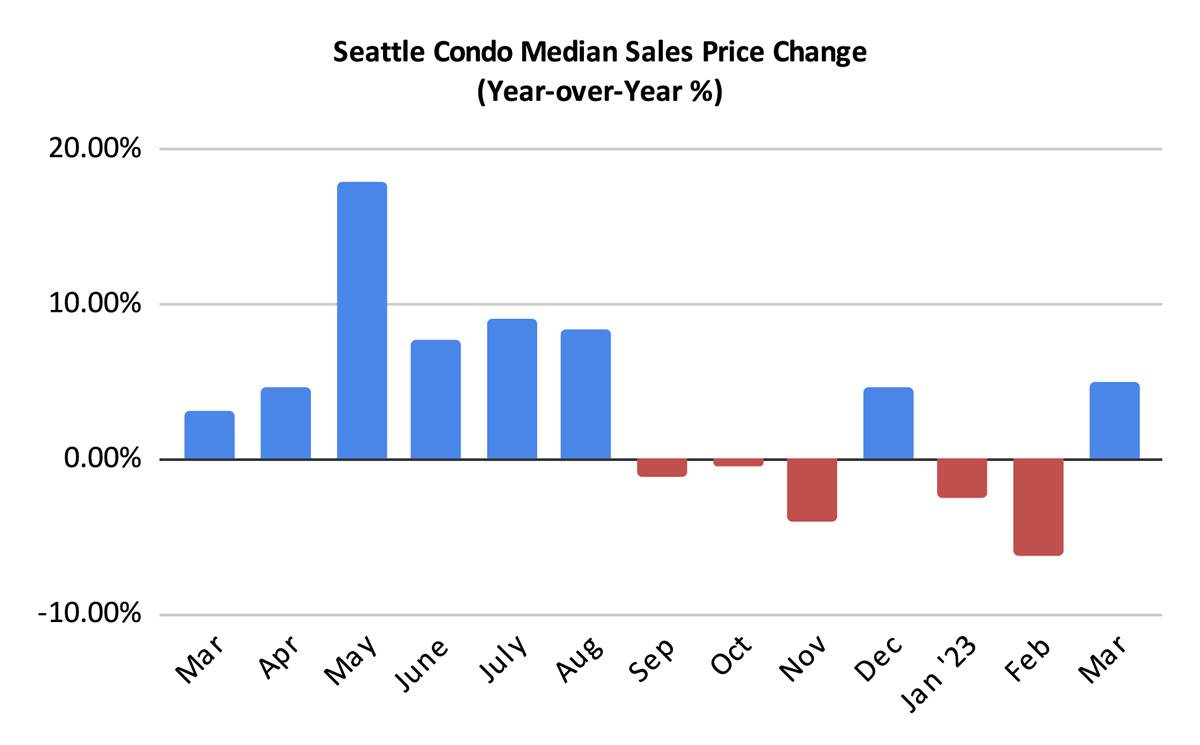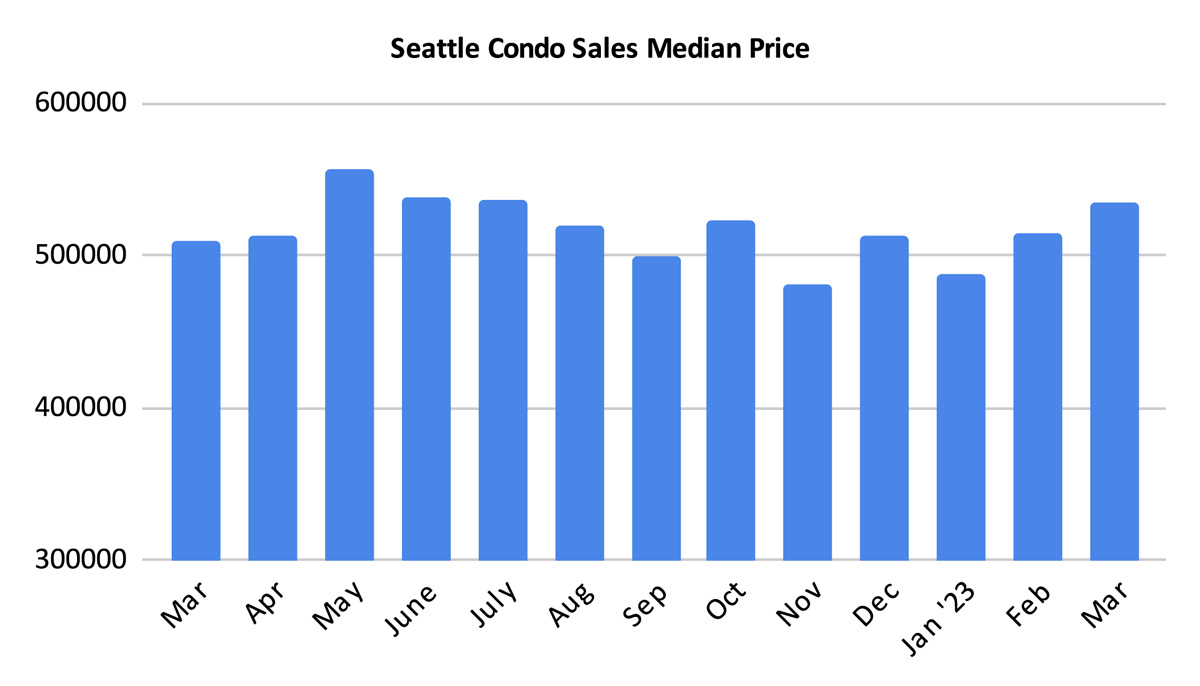 The number of available Seattle condo units for sale finally increased after stagnating for the past few months. There were 433 units for sale at month end that were listed in the NWMLS, marking a year-over-year increase of 49.3%, and 20.3% more than in February.
As has been the case for awhile now, the rate of new listings coming to market is lower than it was last year. In March 2023 we had 29% fewer newly listed units for sale compared to March 2022 (326 vs 459 units).
Note, this is based on NWMLS listed units and does not include available, but unlisted, new developer units at recently completed condo buildings in the downtown Seattle area.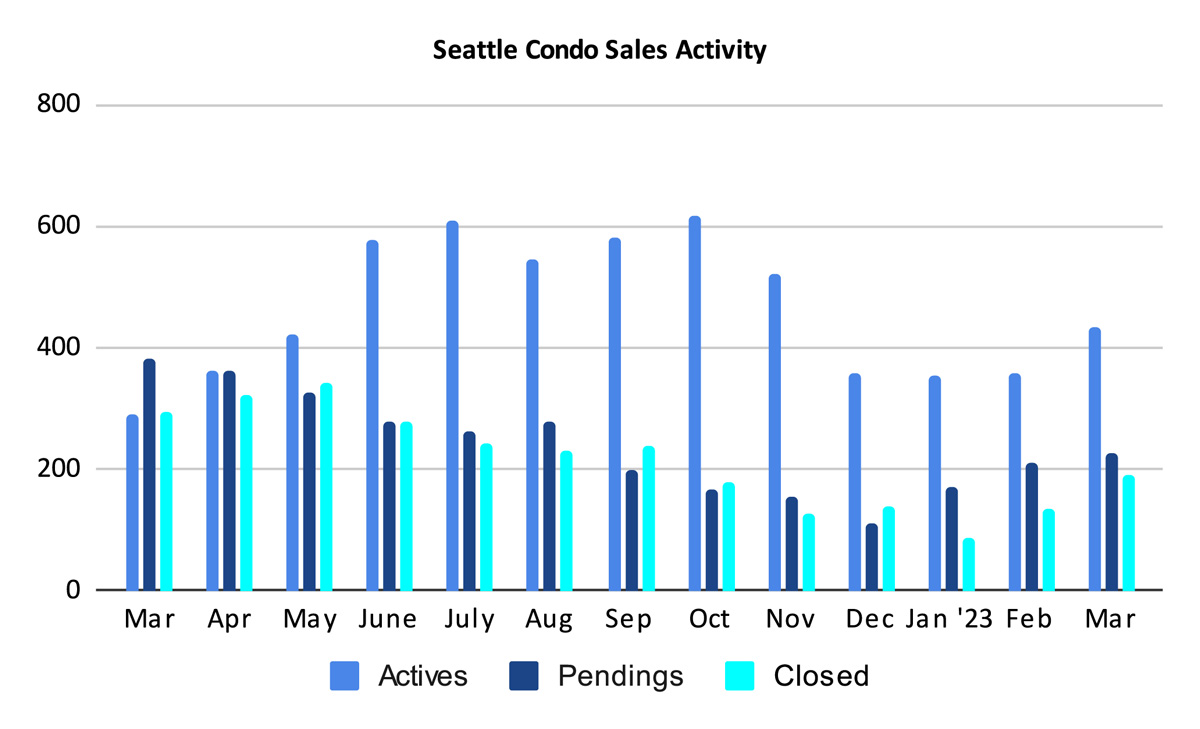 The inventory supply rate inched up to 1.9-months of supply (based on pending sales) in March due to the increase in listings. Seattle remains in a seller's market overall. However, as the city is comprised of neighborhood micro-markets, buyer and seller experiences will vary.
The supply rate is a metric that characterizes the market environment. A rate of less than 4 months is a seller's market, between 4-7 months a normal market, and over 7 months would be a buyer's market.
For instance, the condo market in North Seattle is very tight with a supply rate of 1.25-months. There are fewer condos north of the ship canal than south, so it makes sense the market is stronger. The two areas surrounding the downtown core, Capitol Hill and Queen Anne, both exhibit a solid marketplace with around 2-months of supply. Conversely, downtown has an excess of units and reflects a buyer's market with more than a 12-month supply rate.
Beside geography, price point also contributes to defining the market environment. Lower priced, more affordable condo units are in greater demand and buyers face more competition than higher-end properties. And, pricey, luxury condos dominate the downtown area.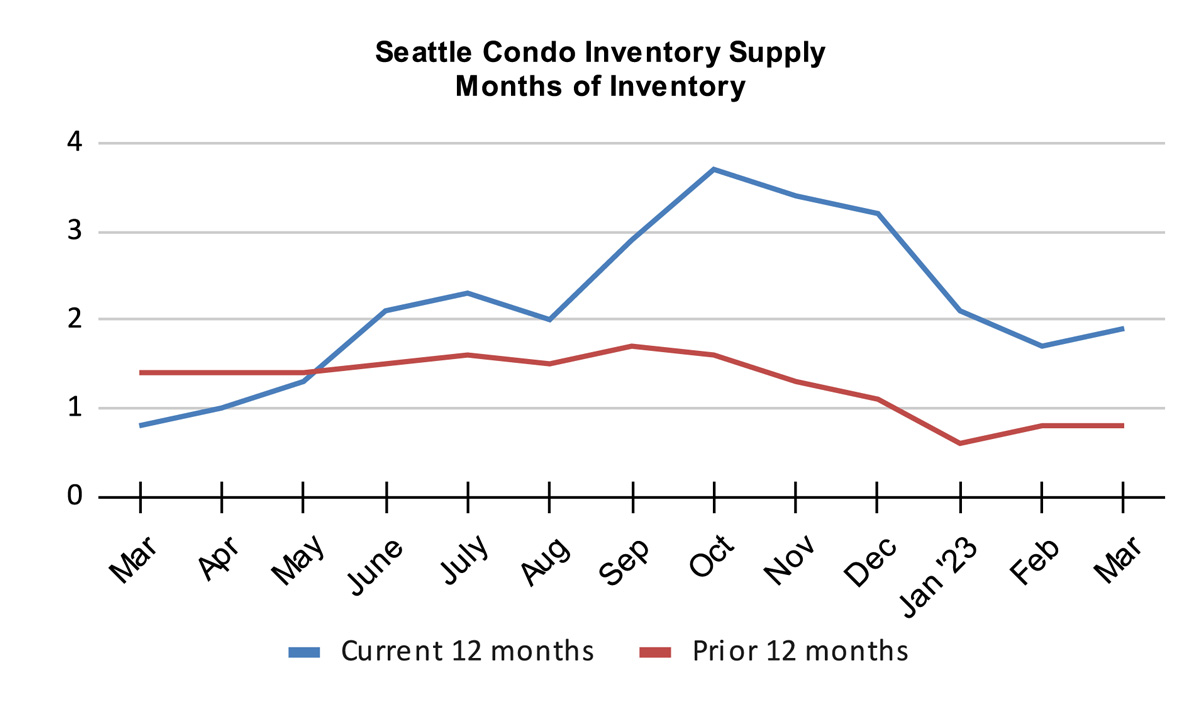 The number of pending sales transactions rose slightly by 7.7% in March to 225 units compared to February. However, that was 41.1% fewer pending sales than we had a year ago. We are trending in the right direction though we are significantly underperforming against last year's sales level.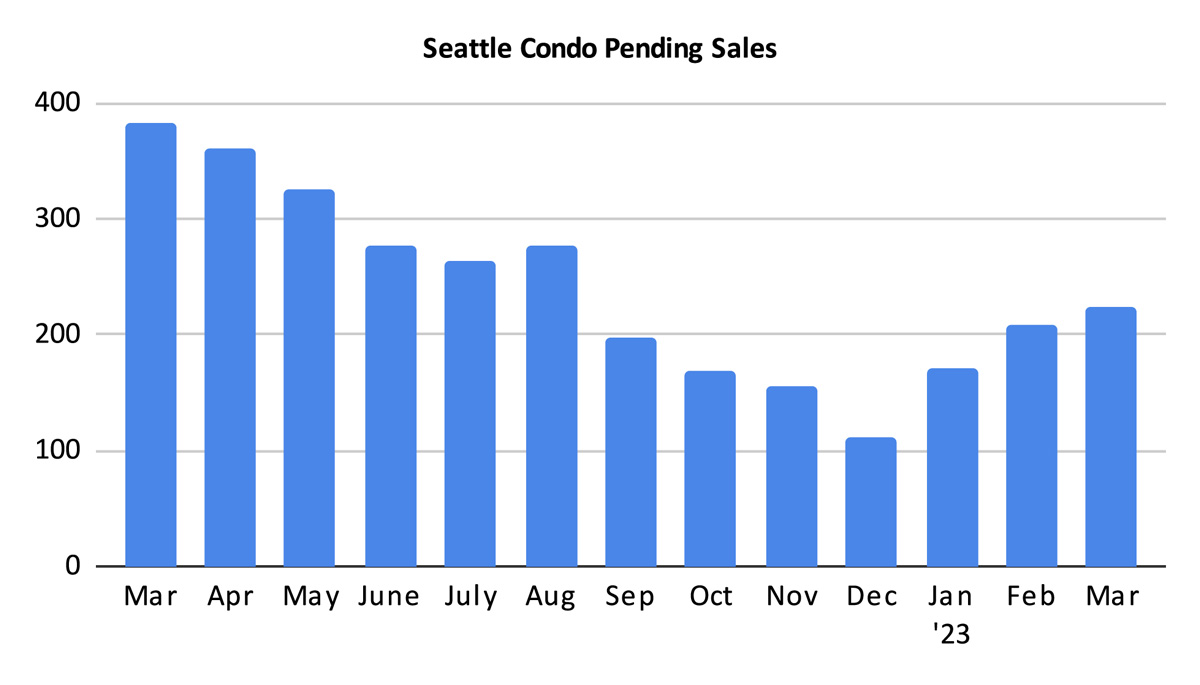 There were 191 closed sales in March, reflecting a year-over-year drop of 35% and a one-month increase of 39.4%. Closings lag pendings by a month so this number should increase in April.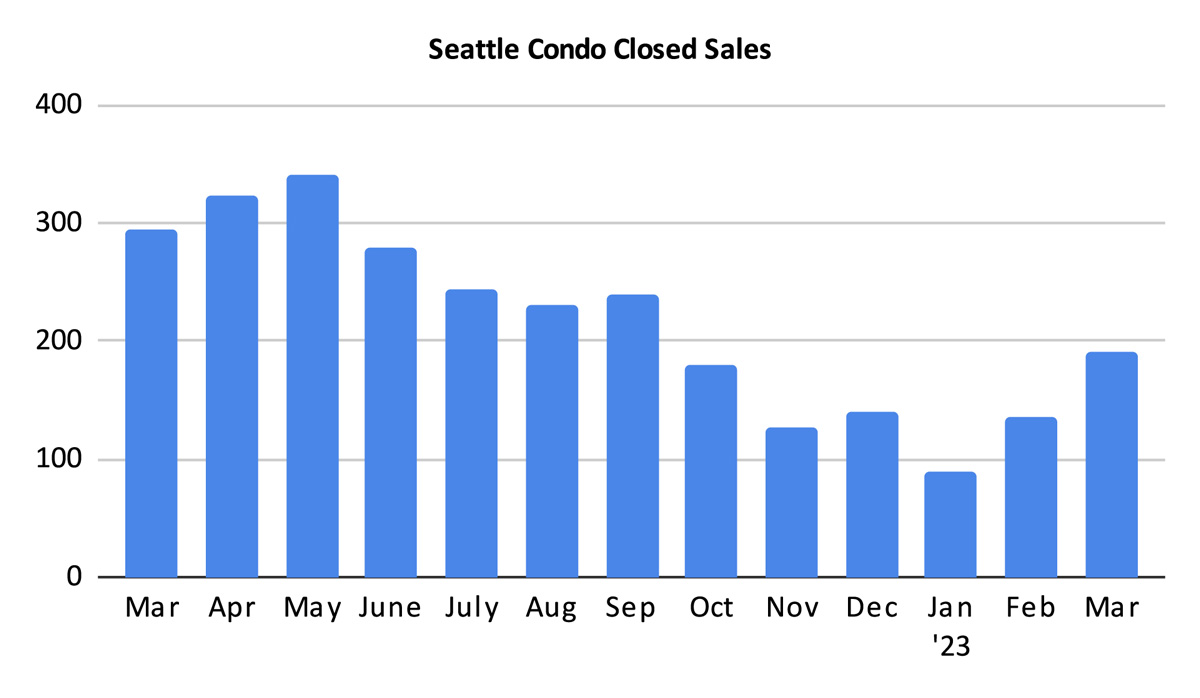 Spring finally arrived with the Seattle condo market waking up from its winter doldrums. Condo sales activity and selling prices improved, which is typically for our seasonal real estate marketplace. Albeit, at a much more subdued pace so far this year.
That can be good or less than good news depending if you're a buyer or seller, as well as neighborhood area. Buyers will find greater opportunities and a more favorable market conditions in the downtown core and surrounding neighborhoods. Move further away and the market in North and West Seattle are tighter and buyers will encounter greater competition.
Sellers will experience the converse. They'll have more success selling condos in the outlying neighborhoods than in the condo dense city core where they'll face a greater number of other sellers competing for buyers.
Seattle Condo Market Statistics March 2023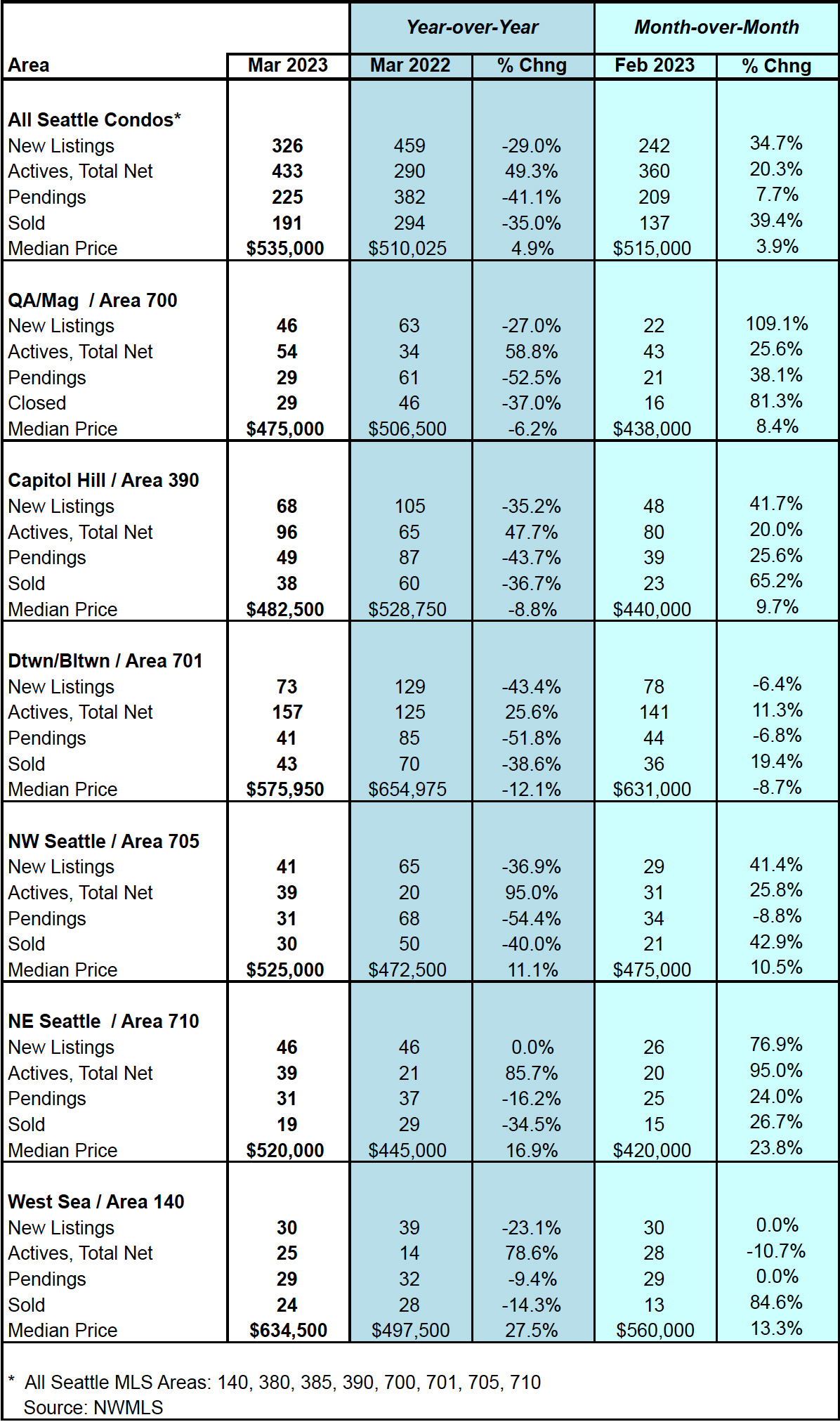 Source: Northwest Multiple Listing Service. Some figures were independently compiled by Seattle Condos And Lofts and were not published by the NWMLS.
© SeattleCondosAndLofts.com