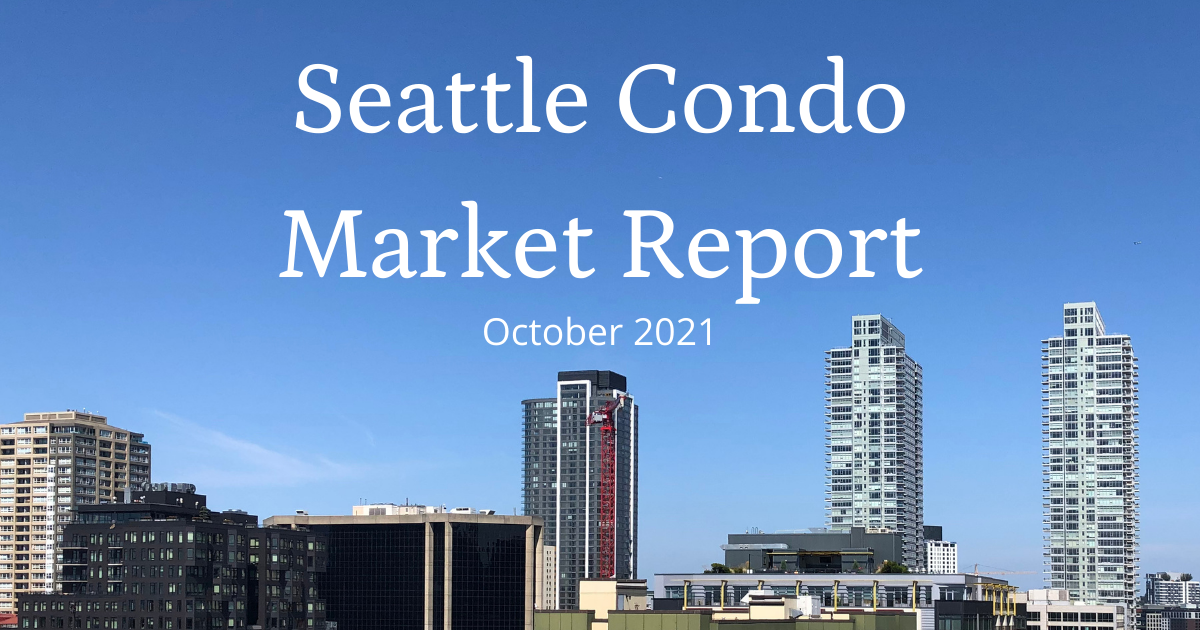 October brought a surge of activity for Seattle's condominium market as we head into the winter doldrums. Condo unit sales volume and median selling prices rose last month.
The Seattle citywide condo median sales price increased to $525,000 in October reflecting a 5.6% year-over-year (YOY) and 4% month-over-month increase, respectively.
For some perspective, this was the highest monthly citywide median sales price we've had since July 2018. In looking at the unit sales, it was a combination of rising values, sales of higher-end units as well as closings as Spire and other new condo buildings in the downtown area.
The median sales price in downtown rose 7.6% YOY to $670,000. West Seattle also experienced an improvement, rising 11.7% to $560,000 buoyed from condo sales in the Alki area. Capitol Hill was the only area that experienced a dip, see table at end of the article.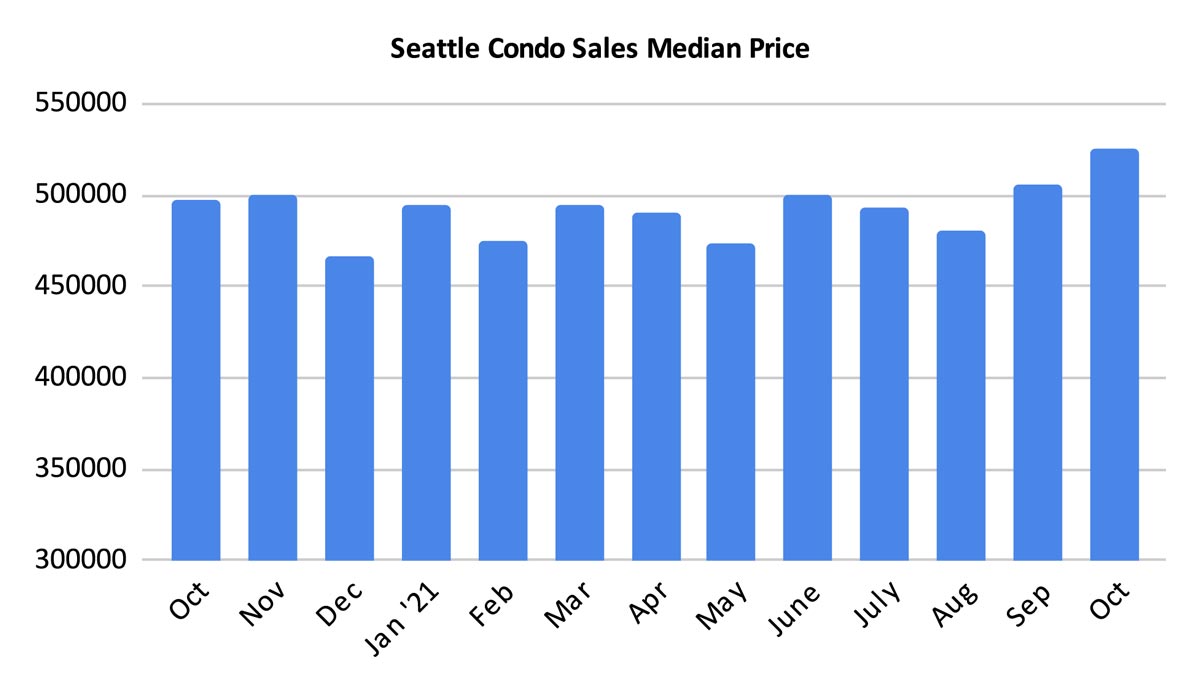 The number of active MLS listed Seattle condos for sale continued to slide, dropping 46.5% YOY and 1% from the prior month to 510 units. The decline help bolster and strong buyer interest and sales for the month.
It should be noted that these figures are based on property listing information in the NWMLS database. Virtually all resale units are included in the NWMLS, though only a small fraction of newly constructed condo units are. Therefore, the true number of condos available for sale in downtown and Belltown are under reported. In actuality, we have roughly the same number of units for sale as we had a year ago.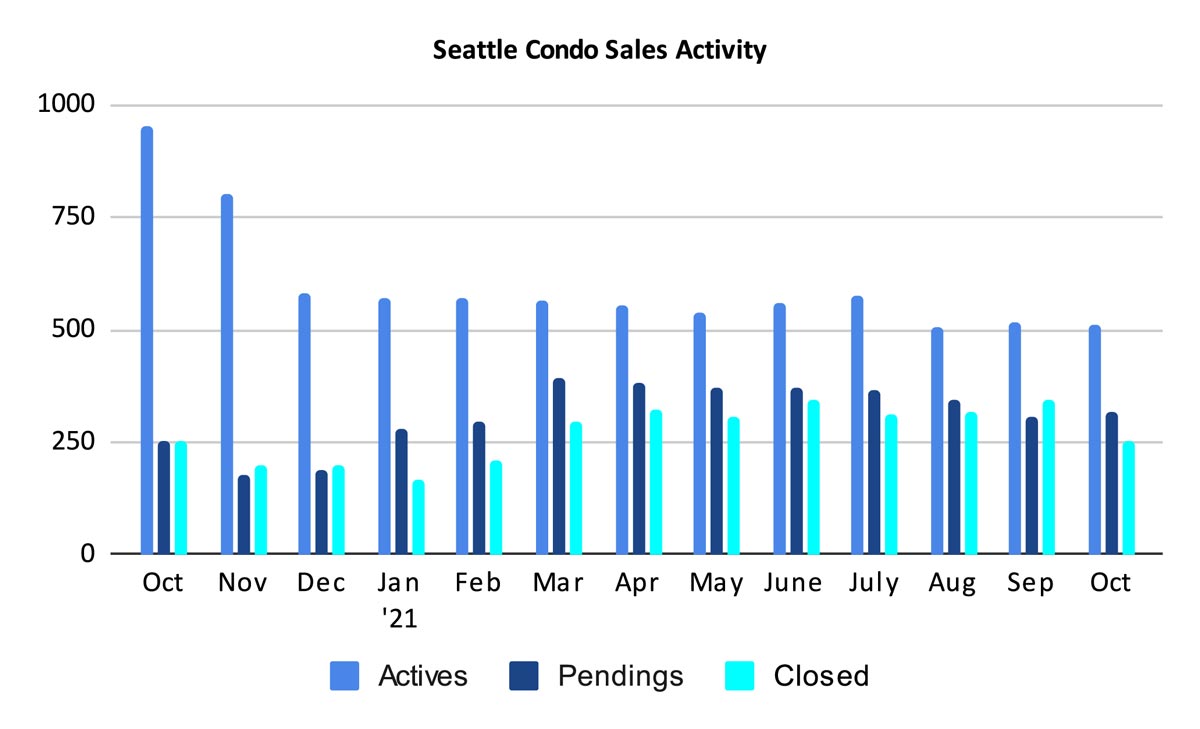 The Seattle condo market inventory supply rate dipped slightly to 1.6-months of supply based on pending sales transactions.
Per the graph below, our market has been steady through most of the year and that's not likely to change much as Seattle's outlook remain promising. Politically, downtown's livability may see improvement, which may help spur sales at the new condo buildings.
The supply rate metric is used to determine the market environment. A rate of under 4-months is a seller's market, 4 to 6 months a balanced market, and over 6% months is a buyer's market.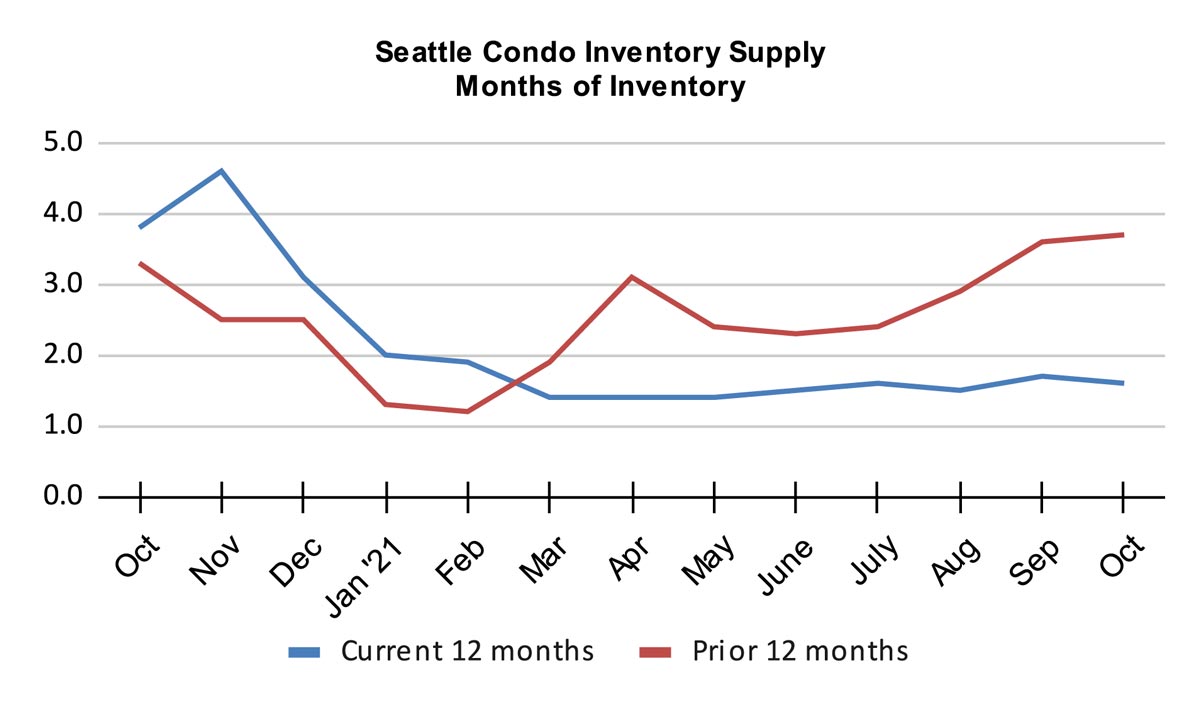 The number of pending sales transactions (properties in escrow) jumped 25.5% over last October to 315 units and increased by 2.6% over the prior month. Cyclically, we will see sales continue trending downward through the fall season.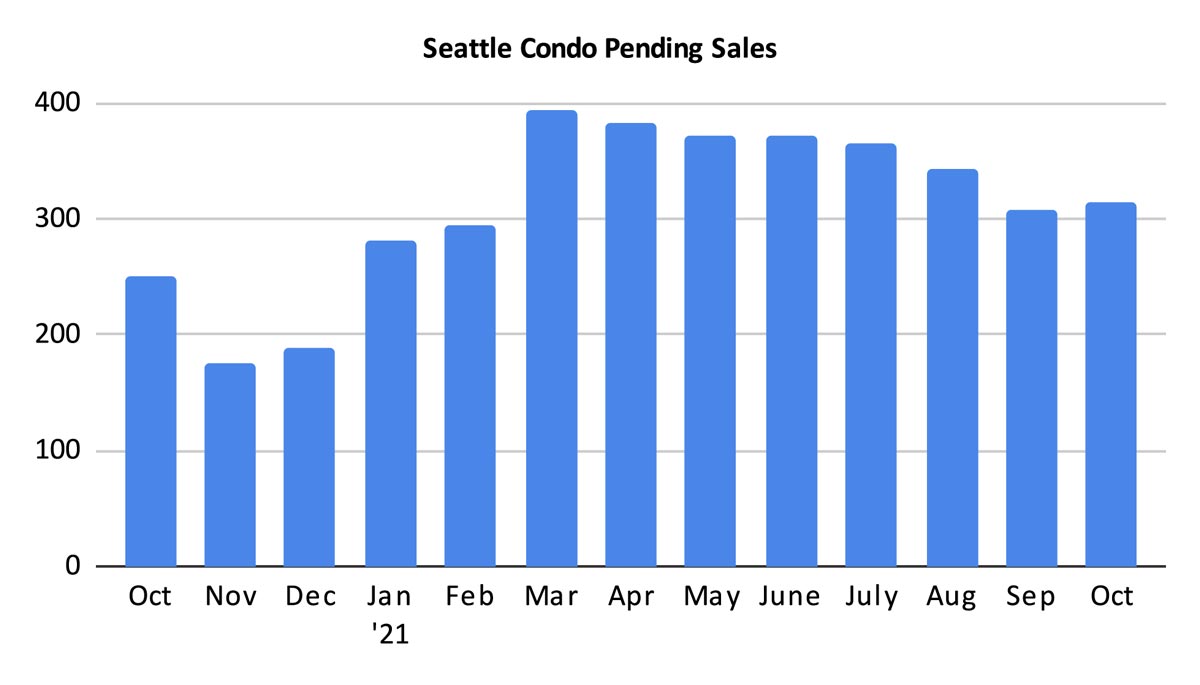 The number of closed Seattle condo sales also improved year-over-year by 4.3% to 265 units, though that also reflected a 22.7% dip from a month ago. Note, however, that closings lag behind pendings by a month, so this number will go up considerably for November based on the number of pendings in October.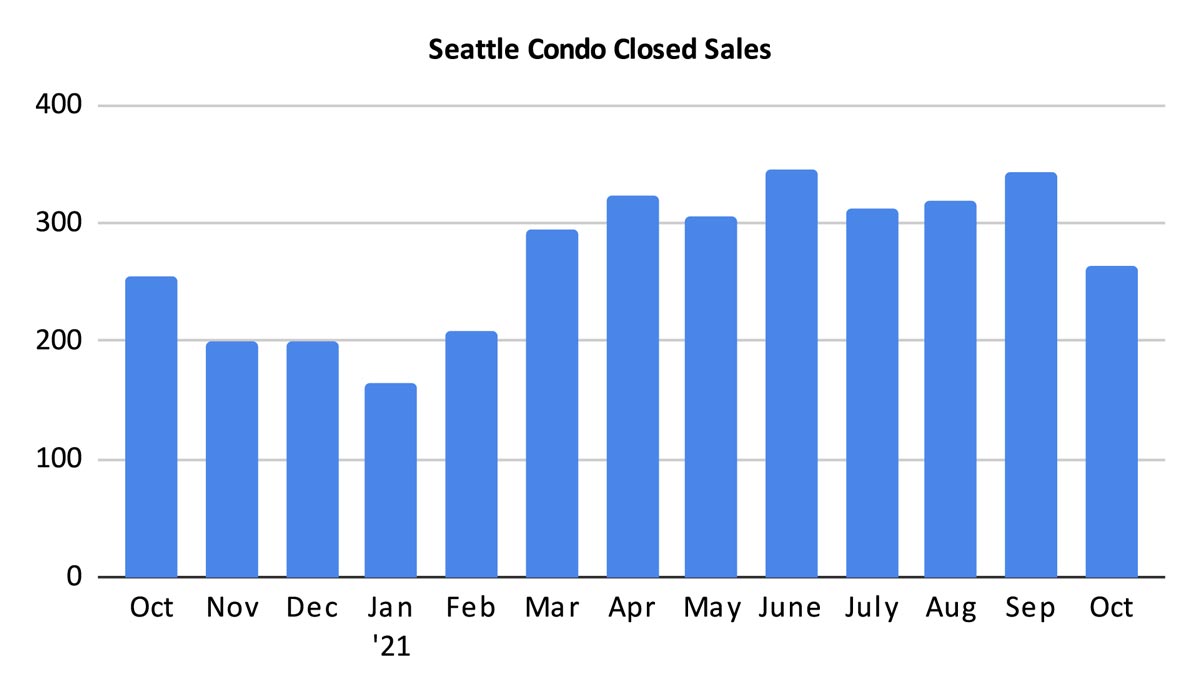 Seattle's condo market experienced a late spurt of activity in October that reflected stronger sales activity and a 3-year high citywide median sales price.
However, the Seattle real estate market is influenced greatly by seasonality and the fall season marks the low-end of the market. We'll see fewer listings, fewer sales, and typically, lower selling prices through the end of the year.
But, it's not all gloom. New construction closings will continue to prop up selling prices in the downtown area.
For buyers, while there may be fewer options to choose from, you'll likely see less competition from other buyers and more favorable values.
Sellers may also benefit from less competition, and buyers out house hunting during the holiday season are likely more motivated to buy.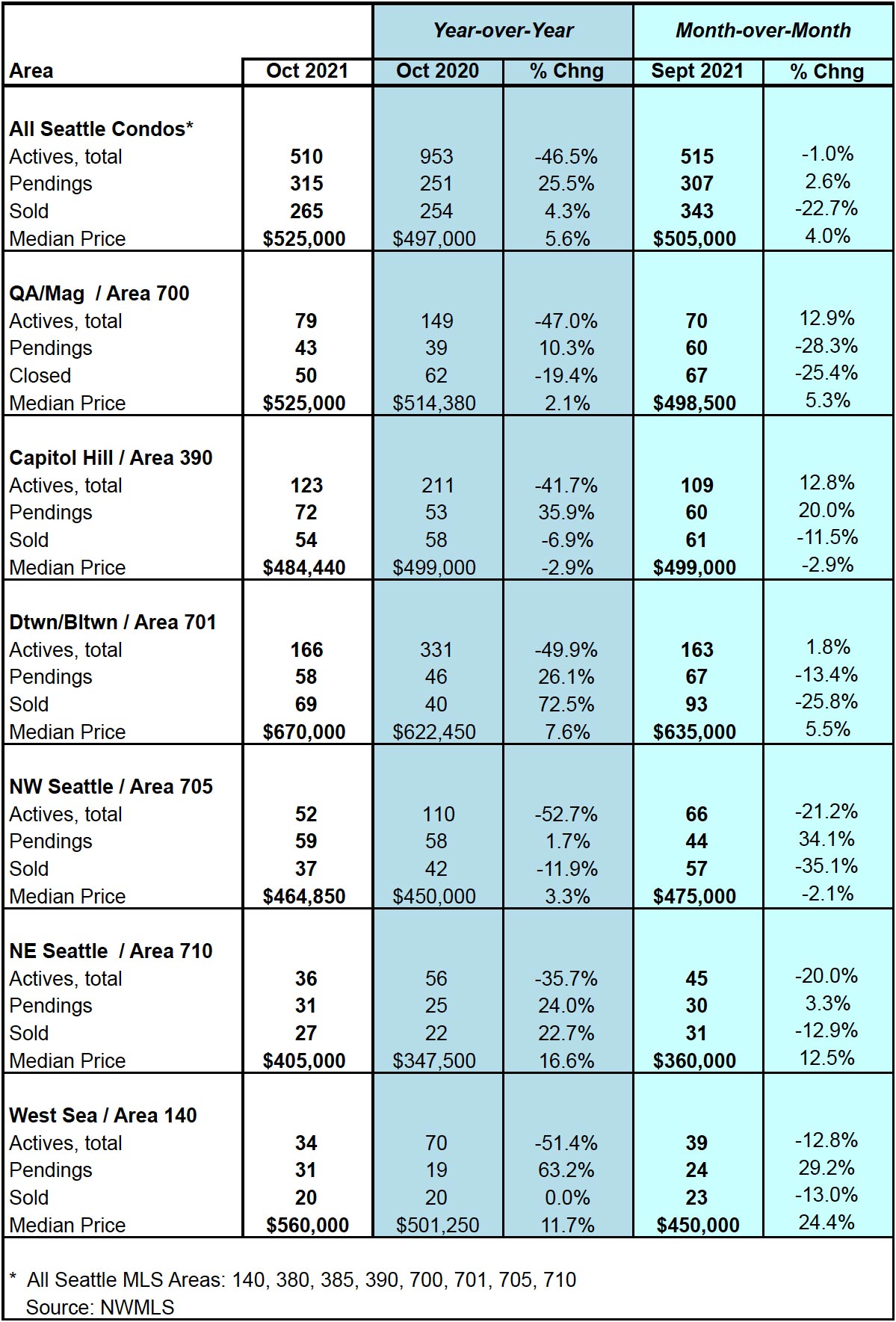 Source: Northwest Multiple Listing Service. Some figures were independently compiled by Seattle Condos And Lofts and were not published by the NWMLS.
© SeattleCondosAndLofts.com