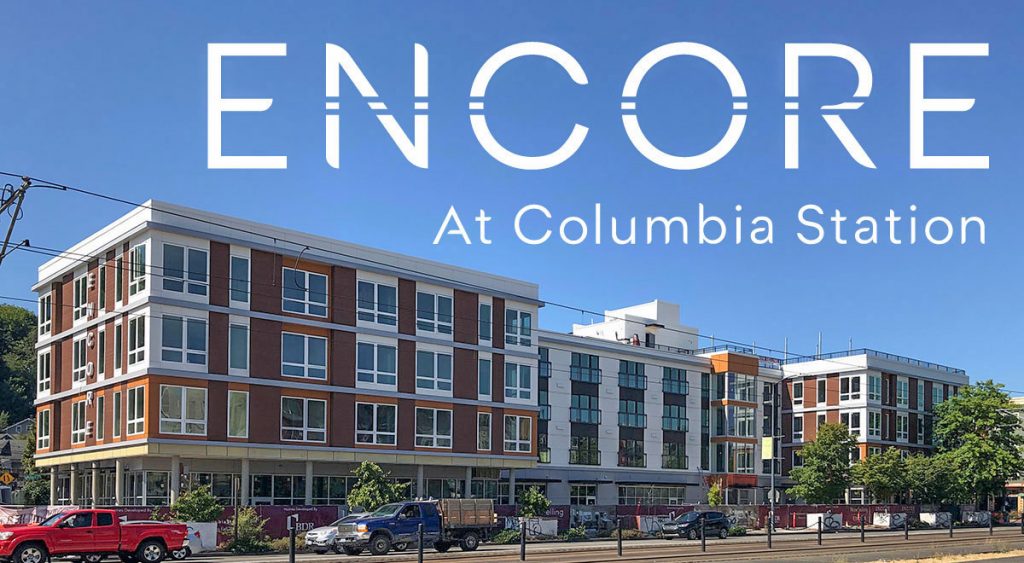 The Encore Condominium is nearing completion in Seattle's burgeoning Columbia City neighborhood. Located at 4689 Martin Luther King Jr Way (map), it will be the first new non-townhome condo development in South Seattle in over 15 years.
Encore is built by BDR Holdings, a well-established developer of townhomes and single family homes throughout the region and is marketed though Polaris Pacific.
The development is slated for completion in November 2021 and is currently 30% sold.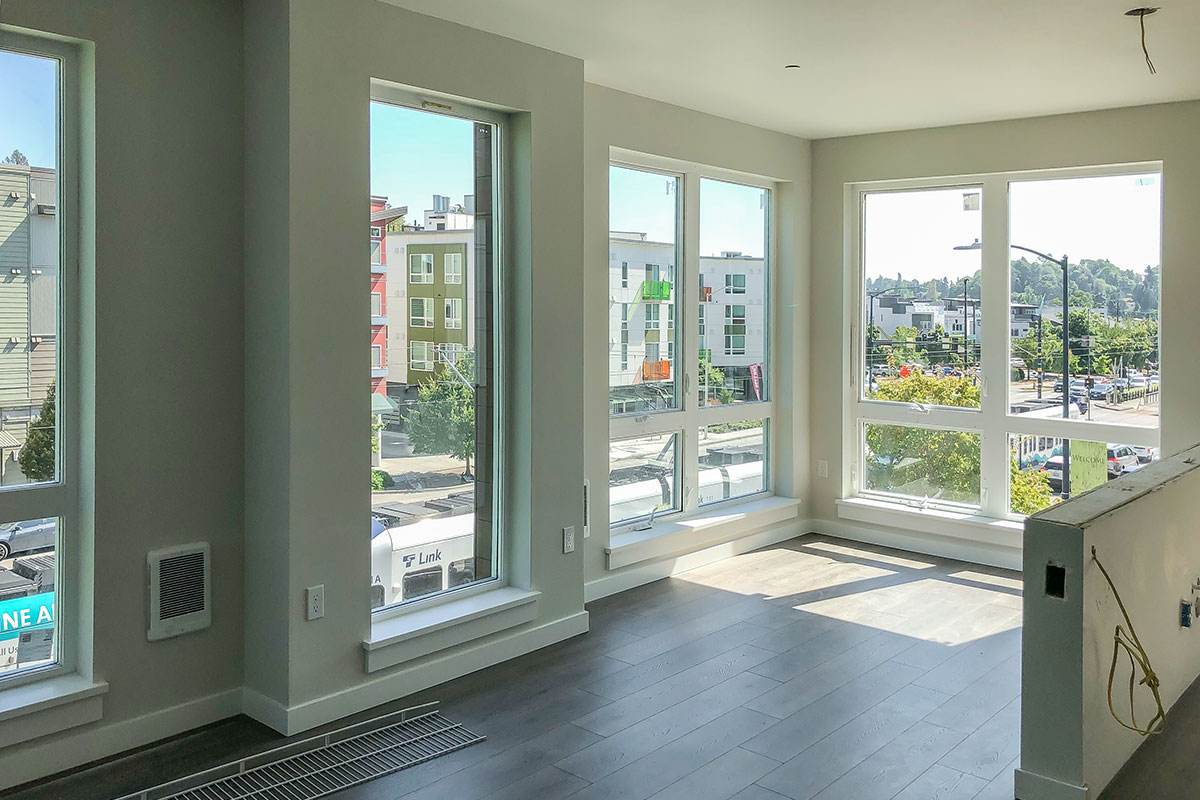 Home Features
The 4-story low-rise buildings incorporates 96-units, featuring a variety of layouts and three color palettes. The vast majority of the homes available are studios and urban one-bedrooms.
Studios: range in size from 366 to 510 square feet with prices from the high-$200,000s
Urban One-bedrooms: range in size from 530 to 658 square feet starting from the mid-$300,000s
One-bedrooms: range in size from 519 to 686 square feet starting in the high-$300,000s
One-bedroom + den: range in size from 632 to 772 square feet and priced from the mid-$400,000s
Two-bedrooms: range in size from 888 to 1,002 square feet that start from the low-$600,000s to the mid-$700,000s
Urban one-bedrooms homes have a separate enclosed sleeping area without a window.
Even though the homes are priced affordably, they are nicely appointed with better than standard finishes, which include:
9 1/2 feet ceiling height
Large, oversized windows
Engineered hardwoord floors
Quartz countertops with a waterfall design
European-inspired kitchen design and cabinetry
Bertazzoni and Bosch kitchen appliances with integrated dishwashers
Electrolux full-size washer and dryer
One feature I liked a lot were the numerous corners incorporated in the building's design that provide an ample number of corner units, which is ideal for natural light and a cross breeze. The studios vary in size and for the smaller units they can feel a bit tight, but the larger studios are quite comfortable with large bathrooms.
The living area in the "x13" one-bedroom stack felt a bit cramped (see photo below), but the bedroom is decently sized and include a large walk-in closet. The open living area of the two-bedroom units are spacious, airy and light-filled, though the bedrooms are atypically small.
There are 66 parking spaces and parking is included with the one-bedroom and larger homes. It is available as an option for the urban one-bedrooms at $45,000 per space. Unfortunately, studios do not have an option to purchase parking.
Storage units are available for $7,500 on a first-come, first-served basis.
Homeowner association (HOA) dues are expected to be $0.78 per square foot of living space, which includes central hot water.
Amenities
Encore offers several useful amenities for residents that include:
Lobby
Fitness room
Bike locker with direct exterior access
Club room with kitchen and outdoor space
Rooftop deck with BBQ and theatre
Dog run and washing station
The ground floor will also be home to three commercial spaces that will include a pizza restaurant, a boba tea shop and a yoga studio.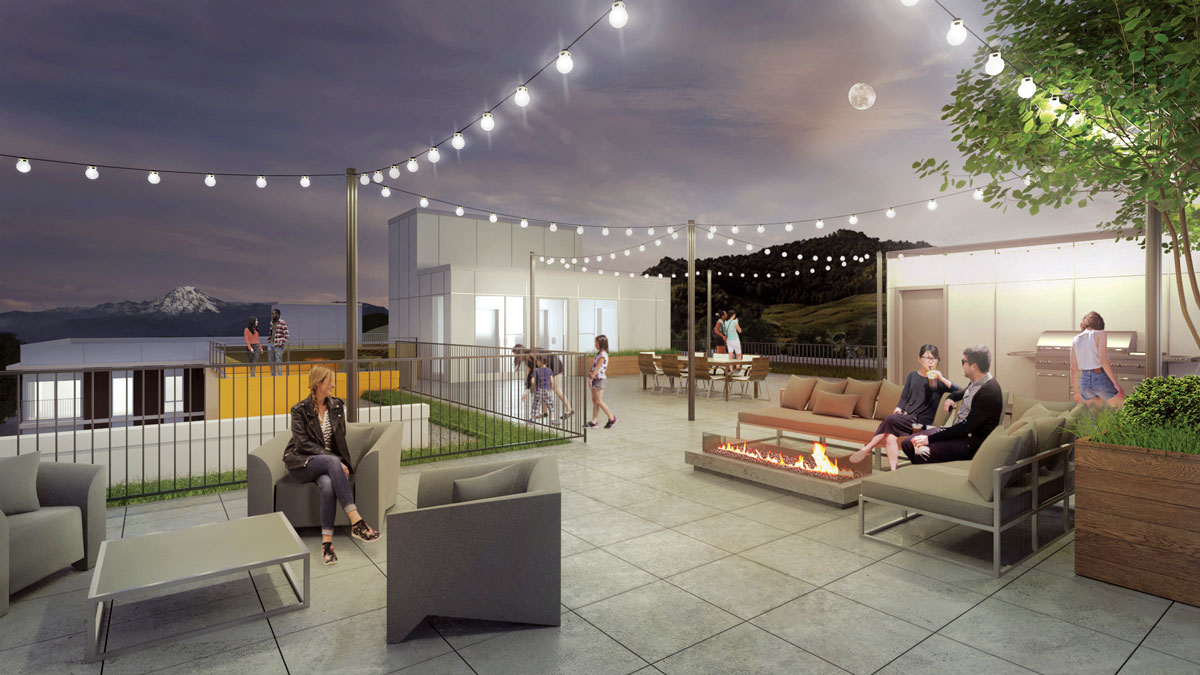 Neighborhood
Besides the wonderful homes at Encore, one of the best feature for homeowners and residents is the location. Encore is situated on the light rail line providing convenient access to downtown and northwards to the University of Washington and Northgate (opening this fall) and southwards to the airport. The Columbia City station is only a 1/2 block away.
Within a block from the building there are several restaurant options, while the heart of Columbia City's trendy urban village is just about 6 blocks away. There you'll find a PCC Market, great local cafes and eateries, and neighborhood specialty businesses and shops.
Purchase & Misc Information
Prices have come down since the units were originally in pre-sale a year ago. Currently, the developer is offering an incentive of 2-years of paid HOA dues on select units for a limited time only.
There are three lenders approved for the project – Caliber Home Loans, Chase Bank and Bank of America. Additionally, Bank of America is offering up to $17,500 for down payment assistance and closing costs. Typically, there are qualifying requirements for the Bank of America program.
Request more information about Encore or to schedule a tour
or View current Encore Condo units listed for sale (MLS listed)
Seattle Condos and Lofts provide condo buyer services and representation and is not affiliated with Encore Condominium.