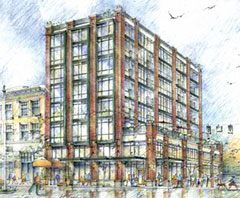 Update 2/22/2010: Alex is now known as Volta Condominium.
Update 9/13/2011: The project, which had been foreclosed, was recently purchased by a New Jersey real estate investment company. I suspect they will complete the project as apartments in the near term.
Currently under construction, the Alex Condo (website) occupies a prime location in Seattle's Belltown district, situated at the corner of 1st Avenue and Bell Street (map). The location places Alex at the epicenter of Belltown's urban appeal – chic cafes & restaurants, the music & nightlife scene and a few blocks from the Pike Place Market.
The 9-level boutique project will feature just 34 upscale one-, one+den, and two-bedroom condominium homes including a 900-sq ft live/work/retail unit accessible from Bell St. The developer, Saltaire, is offering an amazing array of 17 floor plans ranging from 600 to 1,200 square feet to accommodate a variety of lifestyles. The exterior blends modern materials with a classic brick facade & styling resonating Belltown's turn of the century architectural character.
In speaking with Gerry LaCaille, a partner with Saltaire, he expressed that they are taking a different and seemingly refreshing approach towards marketing the property compared to other new construction projects. Rather than judging interest through preview events and making buyers purchase units based on finish samples and two-dimensional renderings, Saltaire has elected to first build and design the homes so that buyers will be able to physically experience the homes. Saltaire is able to do this due to the small size of the project.
Saltaire designed the living spaces to accommodate the lifestyle needs of a range of buyers. Instead of utilizing a one-size fits all approach, the homes will be highly personalized to match various buyer profiles – young urban couples, downsizing retirees, individuals looking for a 2nd home in the city core. LaCaille said their philosophy is to define the buyer's profile then match them to a home that best fits their needs.
To that end, homes sales are expected to begin around May 2008 with prices ranging from $500,000 to $2 million. Alex is expected to be completed in September 2008.
Inside, the homes will incorporate continental styling with hardwood flooring, European-designed casework, Miele appliances and soaking tubs in baths. Buyers will have a choice of either a warm or cool toned interiors.
Alex amenities include two decks, a roof-top lap pool as well as several shared transportation vehicles for residents – a Smart car, bicycles and a Vespa. Additionally, residents will have a "cyber" concierge providing dry-cleaning, housekeeping, meal-delivery, grocery delivery and reservation appointment services.
The building will also integrate artwork throughout including private pieces in the common areas, restored sidewalk artwork on First Avenue and a signature mosaic mural on the Bell Street side of the building. The 1920's inspired mural, titled "Stepping Out", is designed by local artist Ludmila Udodik.
Click thumbnail to view larger image: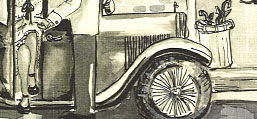 Saltaire is also the contractor for the Leona condominium project on Queen Anne. The project architect is Snell Partnership who also designed the nearby Pomeroy and Bellora. The interior is designed by local designer Mercedes Fernandez.