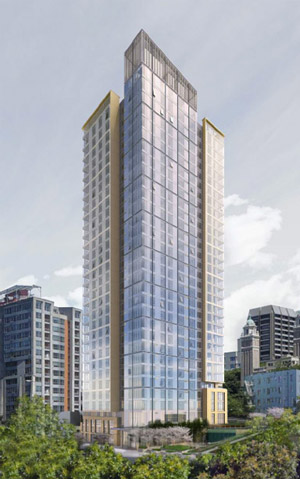 A recent report in The Registry shed light on a proposed residential building on First Hill, which gained Seattle DCI design review board approval.
Located at 800 Columbia Street, just on the other side of I-5 from downtown, the 300 foot tall skyscraper is being developed by Daniels Real Estate, who currently is building the Gridiron Condo project in Pioneer Square.
I've confirmed with Daniels that their plan is to build the new First Hill tower as condominiums.
The 31-story tower (including the roof top deck) will encompass 287 units, of which 60% will be one-bedrooms and 40% will be two-bedrooms, plus 234 below grade parking spaces.
The design features a 9,000 square foot two-tiered open area park, a fitness center, dog lounge with dog run and a bike storage room.
"We've always loved this neighborhood, we're up there all the time, but it's never seemed to have that center focus that draws everybody's attention," said [Kevin] Daniels. "The park gives us that ability, and we have a lot of plans to work with the neighborhood to make it not only safe and secure, but a place that people outside of the neighborhood will want to see. We always do something about preservation, this is our first project with no preservation at all. So this one is all about the arts."
The panoramic roof top deck includes indoor & outdoor lounge areas, a media room, game room and a private dining room.
According to Daniels Real Estate, there is no concrete timeframe for ground breaking as that is dependent on the city's scheduling timeline, though the aim is sometime late next year.
Located between I-5 and St. James Cathedral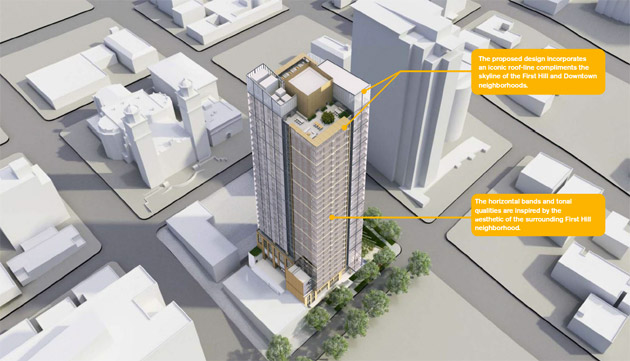 Two-tiered open space park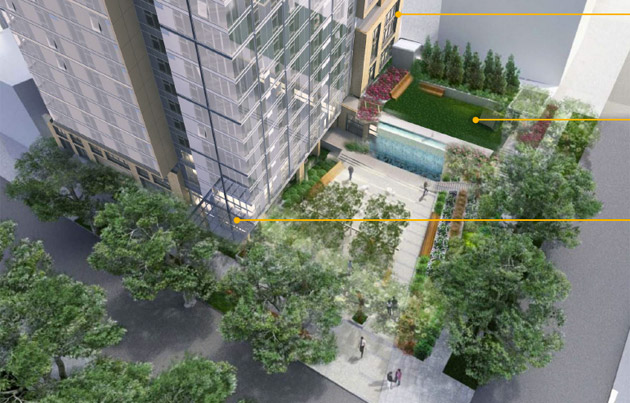 Roof top deck