May proved to be another solid month, if not a bit buoyant, for Seattle's condo market in respects to sales activity and values.
The Seattle citywide median sales price for May was $363,228, reflecting an impressive 10.58% improvement year-over-year, but a 5.2% dip from April. Downtown exhibited the greatest YOY gain with a 42.4% increase while Northeast Seattle decreased 5.9% (see table at bottom).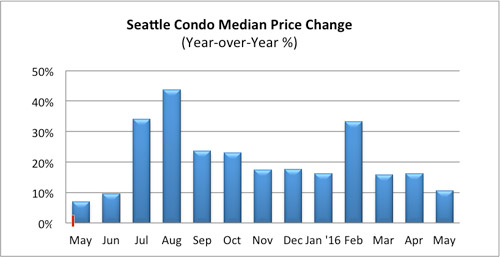 Interestingly, the chart below shows the citywide median sale price slightly trending downward since February when it would typically rise through summer, so it's bucking the cyclical trend. Though, that will be short-lived as soon as Insignia Phase 2 and Luma begin closing later this summer, which will spike the median as it did last July & August.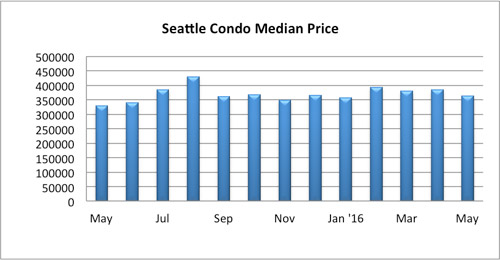 Seattle's condo inventory continued to constrict and the effects may be greater than the numbers indicate. Per the NWMLS there were 281 Seattle condo units for sale in May, exhibiting a year-over-year and one-month reduction of 13.8% and 1.1%, respectively.
When contemplating the unlisted new construction supply at Insignia and Luma are shrinking at a considerable rate as their completion nears, buyers are facing even fewer available options.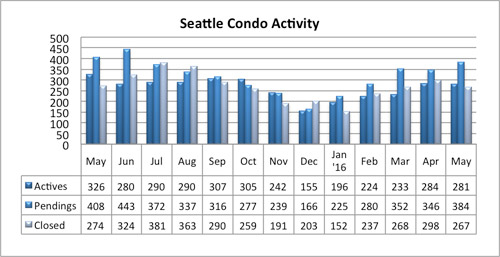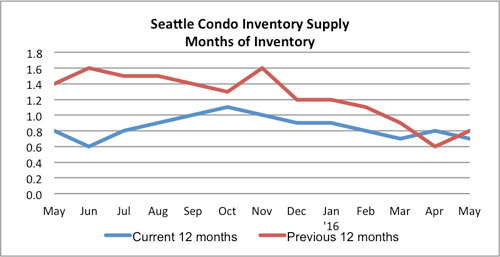 The Nexus Condominium project realized exceptional results from their reservation event this month garnering reservations for approximately 65% of the units available. However, it is not likely to have an impact on the current market place in respects to inventory or sales as the project has yet to break ground and will not be completed until 2019 at the earliest.
There were 384 pending condo units in May (listings with accepted offers under contract), reflecting a one-month increase of 11%, though nearly 6% fewer than a year ago. Not surprising as we have fewer condos available than we did last year.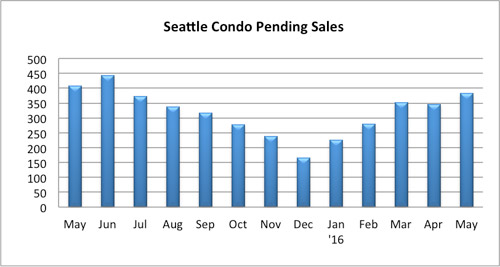 The number of closed Seattle condo sales dropped in May to 267 units, a year-over-year dip of 2.5% and 10.4% fewer than a month ago. This will reverse in a couple more months as closings begin at Insignia Phase 2 and Luma.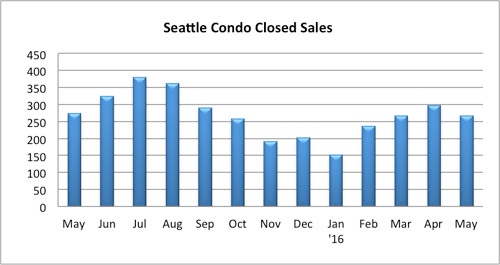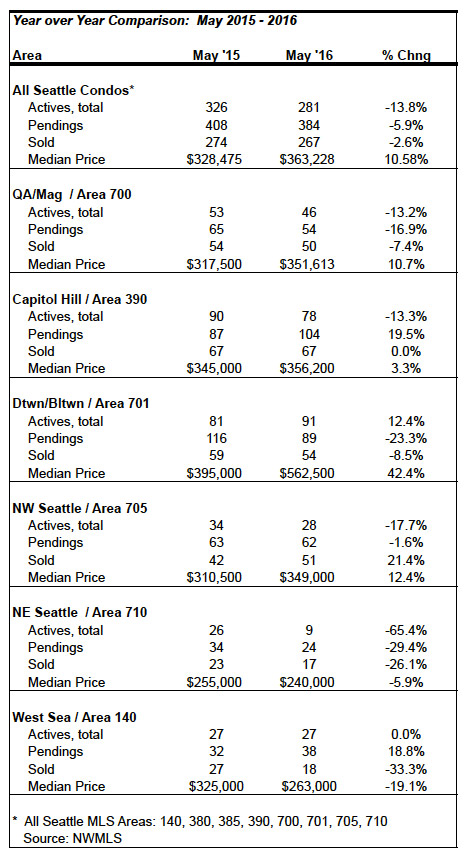 Source: NWMLS. Some figures were independently compiled by SeattleCondosAndLofts.com and were not published by the Northwest Multiple Listing Service.
________________________
© SeattleCondosAndLofts.com