Spring is in full swing for Seattle's condo market with March 2013 stats exhibiting robust sales and rising condo values.
Seattle clocked in another double-digit increase in the citywide median condo sales price, which rose to $292,500, a 23.68% increase over last March and a 12.9% one-month improvement. That is also a 24-month high and the 8th consecutive year-over-year increase in sales price. With the exception of NW Seattle, values rose throughout the city with NE Seattle and Queen Anne areas showing the biggest increases of 66.7% and 46.4%, respectively.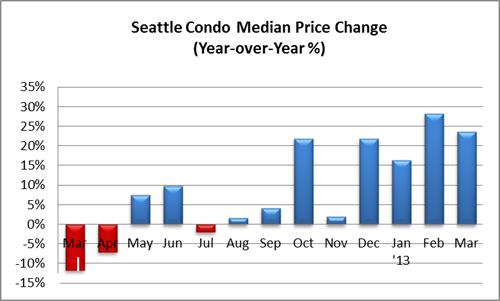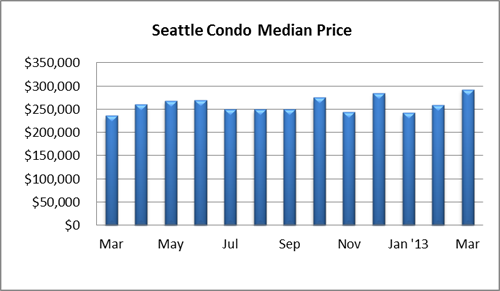 The number of active condo listings have tapered off with 356 units for sale last month, well below the number available last year. Normally, we should see a spike in listings in the Spring time, but not this year. The citywide inventory supply rate slid to 1.2-months. That is, if no new listings come on to the market, it would take 1.2 months to sell out the current inventory, which places Seattle in a very strong seller's market.
It's now more of the norm for buyers to encounter multiple offer situations and bidding wars. However, as values continue to improve, owners who had been waiting the market out are likely to test the waters. I suspect we'll eventually see inventory improve, though no where near the levels we had just a few years ago.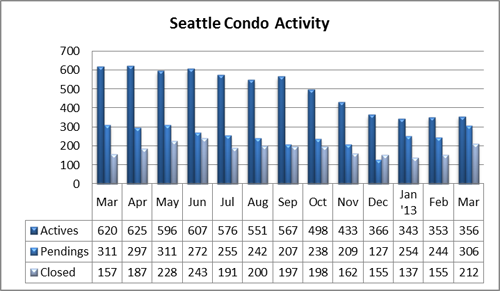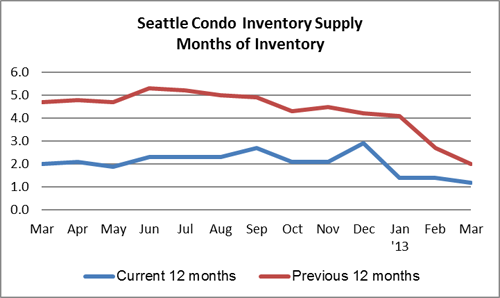 The number of pending transactions (properties with accepted offers and contract) improved 25.4% from February to 306 units, though that was down slightly from March of last year by 1.6%. Nevertheless, the number of pending transactions in March reflected a 10-month high reflecting robust sales velocity.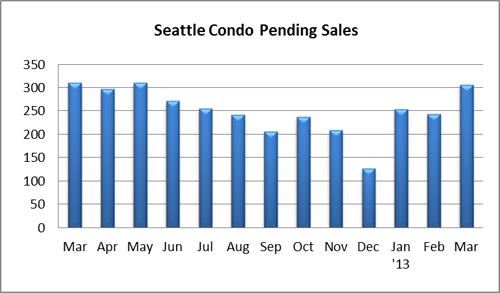 The number of closed condo sales increased significantly last month to 212 units. That's a 35% year-over-year increase and 36.8% jump over February. Nearly 55% of the properties sold within 30 days of being on market and at 100% of the list price compared to last March where only 46.5% sold within 30 days at a discount of nearly 2% of the list price. Though, buyers can expect to see some relief on properties that have been sitting for awhile (over 30 days) by approximately 2-3%.
For potential sellers, it is an opportune time to sell your condo with inventory shortages, rising condo values, low interest rates and a strong local economy and employment base.
For buyers, we'll likely be in a seller's market for some time to come so be prepared for a more competitive environment.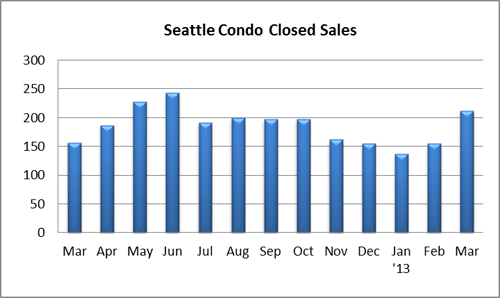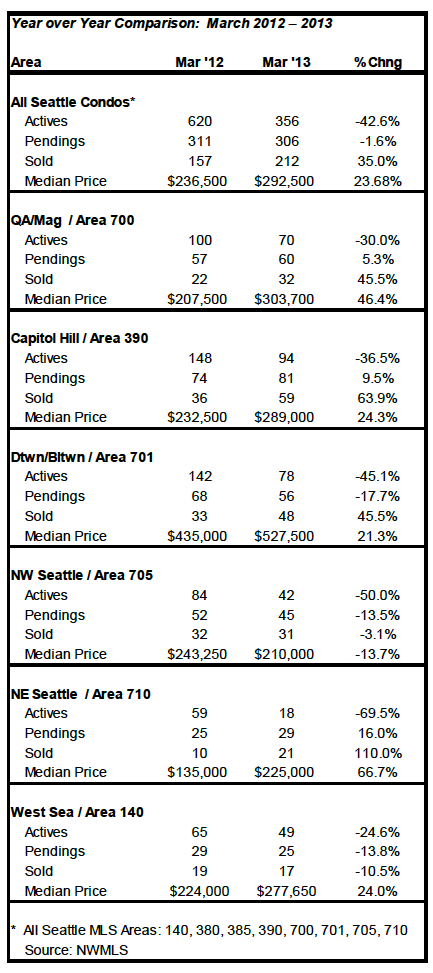 Source: NWMLS. Some figures were independently compiled by SeattleCondosAndLofts.com and were not published by the Northwest Multiple Listing Service.
________________________
© SeattleCondosAndLofts.com