The Seattle condo market seems to have awoken from a coma and thinks it's 2005 with another double digit increase in median sale prices, below normal inventory supply and hyped up sales activity.
The citywide median condo sales price rose 16.35% compared to last January to $242,000, the second consecutive double-digit increase (and 5th overall) in year-over-year values. However, that is tempered by a one-month slide of 15.1% from December. Every neighborhood except downtown reflected improving sale prices last month.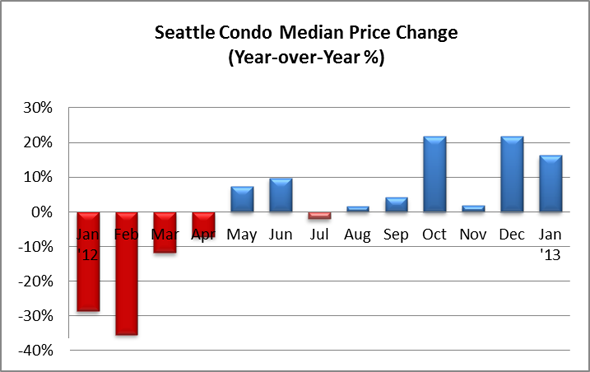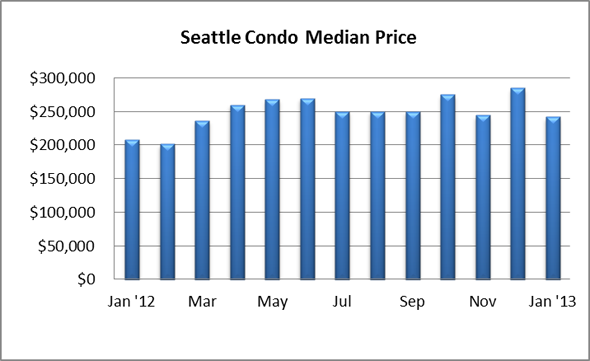 Seattle's condo inventory reduced further last month, down to 343 units, which brings available properties for sale to a below normal 1.3-months supply of inventory. That's a serious seller's market condition, which is anecdotally evidenced by the increasing multiple offer situations that buyers are facing. It's no longer uncommon to have a number of prospective buyers viewing properties simultaneously. Granted, that occurs more so with single family properties but I've run into a fair share with condos. See tips for being prepared and buying in a seller's market.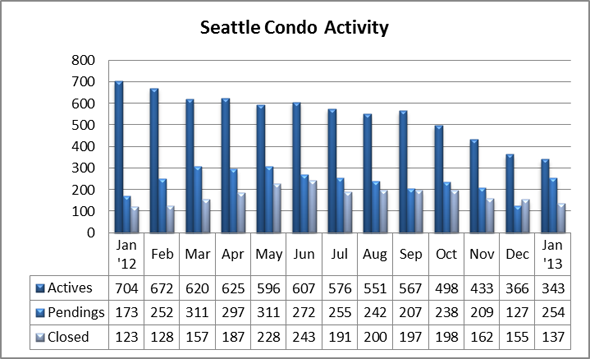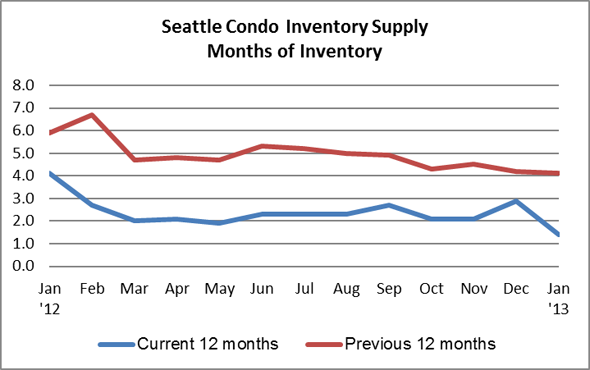 Sales activity took off last month, not unexpected following the holidays and the start of a new year. The number of pending transactions, properties with offers accepted, jumped 46.8% to 254 compared to last January, but exploded by 100% over December. There are more buyers than sellers and buyers are motivated to purchase while values remain reasonable and interest rates linger below 4%.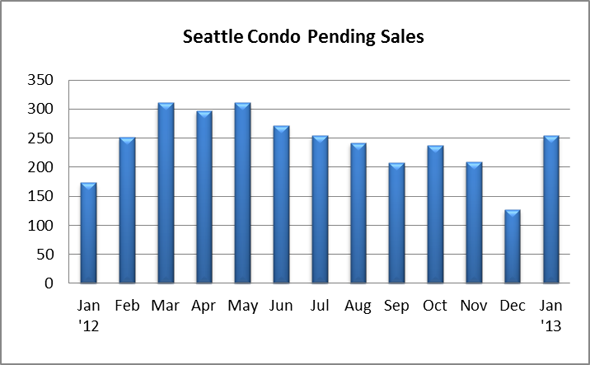 The one downside last month was the number of closed Seattle condo sales, which reflected a one-month dip of 11.6%, the third consecutive month of declining closed sales. However, closings lag behind pendings by about a month (the time it takes to close a sale) and Fall is typically a sluggish period for condo purchases. December is seasonally the slowest month for sales so we'd anticipate closed sales to drop in January. The silver lining is that the number of closings improved 11.4% over the same period last year. Given the number of pendings in January, we'll see closed sales increase significantly in February.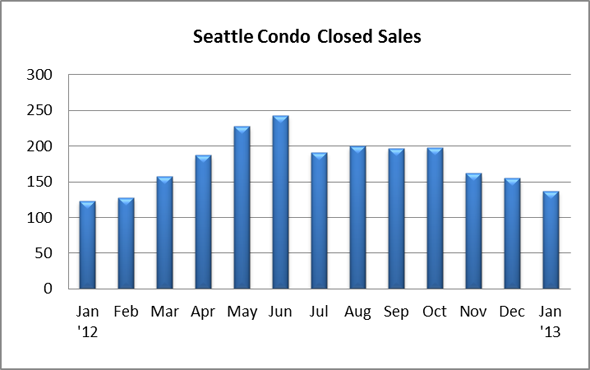 Going forward, other than condo values, I don't foresee sales to continue the velocity we've experienced last year. I say that due to the lack of in-city condo inventory, even contemplating resales as condo owners take advantage of the tight sellers market we're in this year. Other than the Insignia Towers project in Belltown, there is no new condo inventory in the pipeline for 2-3 years. We'll likely see apartment-to-condo conversions fill the gap, though, even the rental market remains tight.
For sellers waiting on the sideline over the past few years for values to improve, this may be the time to sell your Seattle condo. For buyers, it'll take some adjustments to adapt to the changing market place. Multiple offer bids, pre-inspections, offer deadlines and higher prices will be more commonplace. The key factors for buyers will be to remain objective through the process, do your due diligence and to keep to you budget.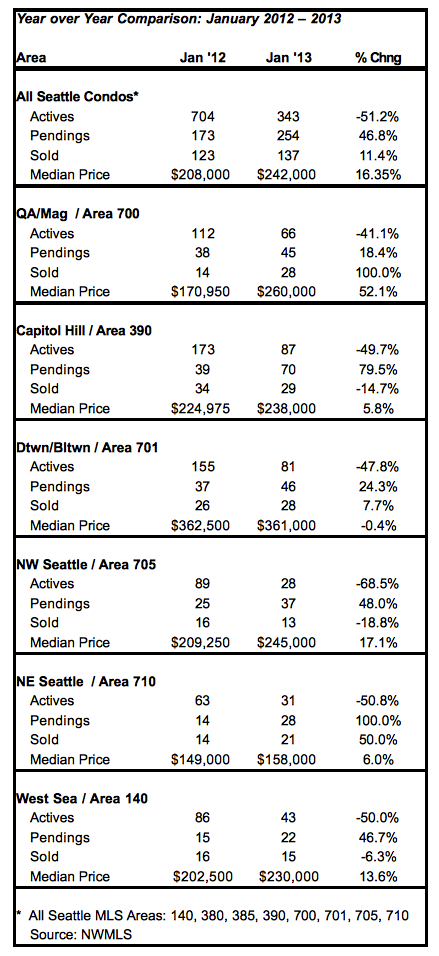 Source: NWMLS. Some figures were independently compiled by SeattleCondosAndLofts.com and were not published by the Northwest Multiple Listing Service.
________________________
© SeattleCondosAndLofts.com