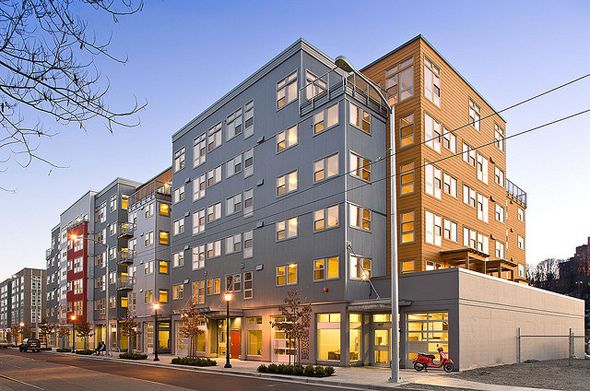 The Pontedera Condominium, a new construction development located just south of downtown Seattle, has now sold more than 51% of its inventory.
Sales had been rather slow, mostly due to timing and the lack of financing options that limited lending opportunities at Pontedera. However, with low condo inventory throughout the Seattle area, Pontedera sales improved with 25 unit sales so far this year. As a result, Pontedera has been able to obtain FHA approval and hopes to receive Fannie Mae approval by the end of the year. That will open the door to more lender & financing options for prospective buyers.
View Pontendera Condos for sale
The Pontedera features a mix of residential flats (one-bedrooms to three-bedroom homes) and commercial live/work loft spaces with prices starting from $187,900.
The Pontedera is also able to offer buyers a 12-year property tax reduction program (for qualified buyers) and special financing with interest rates as low as 2.5% (3.42%APR) on a 30-year fixed rate mortgage and $0 down though their preferred lender.
Disclosure: Pontedera is an advertiser of Seattle Condos And Lofts.