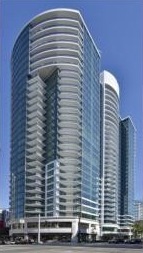 Escala Condominium
The Escala Condominium report they've just received full Fannie Mae approval. This will facilitate loan approvals with various lenders and will accelerate closings at the luxury condo tower in downtown Seattle.
Marselle Condominium
The Marselle Condominium has surpassed the 100 unit sales mark and is now over 75% sold. The new construction condominium near the Seattle Center still has a number of great single level flats and two-story townhome penthouses available. Prices start from $219,990.
One Main Street Condominium
The One Main Street Condominium near Downtown Bellevue recently reduced prices up to $30,000 on select one-bedroom plus den homes, which now begin at $379,900. Regular one-bedroom homes start from $299,900.
Land Use Action
The Seattle DPD approved a couple of notable proposed apartment developments in Belltown. This morning the DPD approved the 27-story development next to the Seattle Heights Condominium at 225 Cedar Street. The current proposal is for a tower at the NE corner of the block at the site of the American Lung Association building. Eventually, the development will encompass the entire east half of the block. Across the street, the Alto apartment building is currently under construction. View decision (pdf).
A few weeks ago, the Schuster Group's Joseph Arnold Lofts project received conditional approval. The proposed 13-story apartment building will be adjacent to the Bellora and Klee Condominiums. Virtually all of Bellora's southern views will be obstructed as well as the west views of the Klee's south building. View decision (pdf).
Queen Anne High School
The Puget Sound Business Journal reported that developer of the Queen Anne High School Condominium is battling its insurer after loosing a $9.4 million lawsuit brought on the homeowners association.
According to the article, the homeowners association filed a lawsuit alleging breach of contract, implied warranty, and violation of the Consumer Protection Act in its marketing of the property, among other issues.
Developer, insurer now at odds over $9.4M ruling on Queen Anne High School via Puget Sound Business Journal