A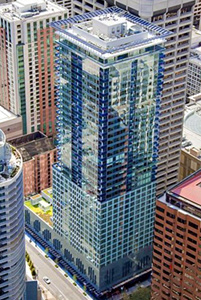 dapted from an Olive 8 Press Release:
Executives at RC Hedreen Company announced they've closed their 148th sale (with six sales pending in November) marking a new milestone with two-thirds sold and closed at the 229-unit, Olive 8 condominium tower.
"Olive 8 was successfully repositioned in 2011 and our sales momentum continues as buyers realize that the cost of homeownership has been greatly reduced," says David Thyer, president of RC Hedreen Company, the developer of Olive 8. "Our construction loan is nearly paid off, home values at Olive 8 are stabilized and we saved our best inventory for last."
Having earned 45 new sales since resetting prices up to 35% below previous list values, Olive 8 represented a significant share of Seattle condo sales in 2011. To maintain momentum, Thyer recently realigned the asking prices of all remaining homes with the selling prices of similar homes that recently closed in the building. Select home plans were further adjusted up to 8% below the most recent list prices.
"We had a strong start to 2011 and we'd like to close out the year in a similar fashion," says Thyer.
In addition to validated market prices, Thyer confirmed HOA dues will drop 15% (from $0.54 per foot per month to just $0.47 per foot per month) given the building's operational efficiencies shared by the hotel and from lower utility consumption within the LEED (Leadership in Energy and Environmental Design) "Silver" certified building. Additionally, Thyer confirms that 5% down-payment options are now available at Olive 8. Recent sales, appraisals and financings confirm the stabilized values and continued market performance of the development.
"Consumer confidence is returning," he added. "It also helps that the in-city housing recovery is now more obvious when compared with the broader King County region."'
According to a report by the Northwest Multiple Listing Service, the median home price of condominiums in downtown Seattle (Area #701) year-to-date was $392,620 as of October 31, 2011, up nearly 5% from $375,000 over the same period year-to-date in 2010. Similarly, rental rates have trended 3-5% higher in downtown Seattle neighborhoods year-to-date, according to a recent report by Dupre + Scott Apartment Advisors.
Click to view the entire press release (pdf)
Disclosure: Olive 8 and Realogics Sotheby's are advertisers of Seattle Condos And Lofts.