A couple of condo related events are coming up this week including an investment seminar and a design review board meeting for the Joseph Arnold Lofts. While Joseph Arnold Lofts is an apartment building, it is being proposed on a lot adjacent to two condo buildings – Klee Lofts and Bellora. Also, 7800 Plaza and Gallery are looking to close out sales this summer.
"Finding a Way with Your IRA" – Investment seminar
Realogics Sotheby's is hosting a seminar for leveraging IRA's (Individual Retirement Accounts) for investing in downtown's opportunistic real estate market. A panel of experts has been assembled to explore myths and facts with using IRA's for income property, to discuss available financing options and the review the overall housing marketing in downtown Seattle.
| | |
| --- | --- |
| When: | June 28th, from 6 pm to 8 pm |
| Where: | The Hyatt at Olive 8 (1635 8th Avenue) |
Click for more info and to RSVP
7800 Plaza – Mercer Island
Mercer Island's only new condominium is the 7800 Plaza building located in the island's downtown town center. Completed last summer, the 24-unit concrete and steel built 7800 Plaza Condominium is down to its final 5 homes for sale — all are two-bedroom + den homes ranging from 1,300 to 2,000 square feet. The homes are available from $499,950 to $749,950.
Visit the 7800 Plaza website
View 7800 Plaza condos for sale
Gallery Condominium – Belltown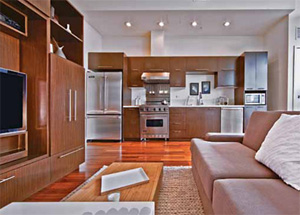 The Gallery Condominium at 2911 2nd Avenue in Belltown is close to selling out the building. After an auction and a buy now event earlier this year, the 233-unit Gallery has 14 new homes remaining for sale and is offering a 3% buyer bonus incentive. Current prices range from $230,000 to $405,000.
I took a look at a few of the remaining open one-bedroom homes and prices have reduced more than $100,000 from their 2008 levels…about a 31% decrease overall.
Amenities at Gallery include concierge services, two guest suites, a supper club with a private dining room and Sky Lounge, a lobby that features rotating exhibits by local artists and two rooftop view decks with grilling areas.
Visit the Gallery Condo website
View Gallery condos for sale
Upcoming Land Use Meeting
A second design review board meeting for the Joseph Arnold Lofts apartment building has been scheduled for June 28th. Joseph Arnold Lofts, which is being developed by the Schuster Group (Mosler Lofts) is located at 2700 Elliott Avenue, adjacent to the Bellora and the Klee Lofts.
When: June 28, 5:30 pm
Where: Seattle City Hall Room L280
Download the Joseph Arnold Lofts design guide (note: it's a 55 MB file).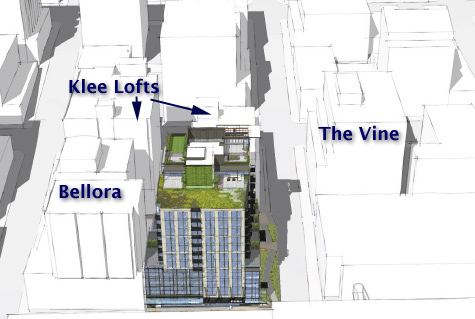 Disclaimer: Realogics Sotheby's and Gallery Condominium are advertisers of Seattle Condos and Lofts at the time of publication.